Clean Air Addiction is Catching On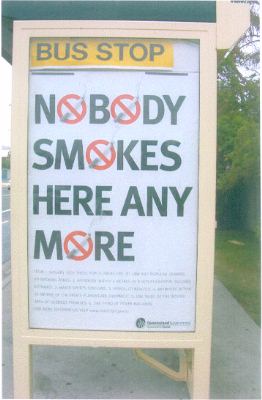 Queensland Poster

With Premier Beattie's Queensland Government and many Local Governments around Australia banning smoking at beaches and near playgrounds and sporting fields, and even at bus-stops in Queensland, we feel that at last people are realising that they can gain the clean, tobacco-free air to which they and their children are entitled.

This happy holiday snap, taken at the Gold Coast early in January 2005, shows why Queenslanders can breathe a little easier now. Public transport has been smoke-free for so long that it's hard to work out why this obvious next step wasn't taken long ago. Let's push for the same conditions all around Australia.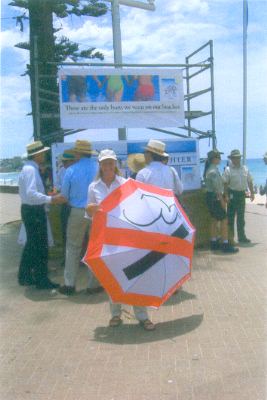 Butts off Our Beaches

The 1st December 2004 saw launch of the Butts off our Beaches campaign in Sydney's Northern Area. Councillor Barbara Aird, seen here with an NSMA umbrella, had made the first proposal, to Manly council, in May, and was very proud to see the campaign finally in place.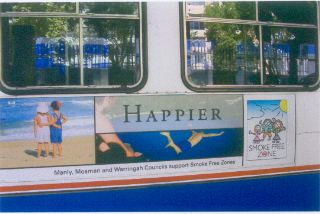 Poster on side of bus



***********************************

Editorial

Our Annual General Meeting, held in November 2004, was very interesting. We held it at the only smoke-free (indoors) hotel in NSW, the Tilbury, at Woolloomooloo.

Guest speakers were: firstly, Sharon, a young asthmatic 24 yr-old who deplores the fact that she is unable to go out with friends to socialise and to listen to live music due to her intolerance of secondhand smoke - she rightly regards this situation as highly discriminatory.

Our second speaker was Mr. Andrew Brown, Deputy Mayor of Mosman Council who last year successfully instigated council regulations to ban smoking in the outdoor areas of restaurants on council-owned land in the Mosman area.

We thanked outgoing Treasurer, James Proctor for his years of dedicated service to NSMA.

Annual Stinkies Awards were highlighted by the one made (in absentia), for his gratuitous promotion of tobacco, to John Thorpe, President of Australian Hotels Association, for his dedicated efforts towards delaying smoking bans all over Australia.

We enjoyed the hotel's unique smoke-free atmosphere and delicious food. However, it was a strange, surreal feeling to step out of a smoke-free indoor pub to a smoky outdoor area.

Let's hope the outdoors will also go smoke-free soon what's wrong with having a couple of small designated outdoor smoking areas, away from windows and doorways, to restrict the spread of smoke?

******************************

Many smokers and non-smokers challenge our governments to ban tobacco altogether but we are aware that, because of the highly addictive nature of nicotine, the potential for a huge, unregulated and dangerous black market in tobacco would immediately arise. Also, one of the most effective ways to reduce consumption is to raise the cost of tobacco to consumers, and this control would not be available. So, we will continue to fight for our rights to clean, tobacco-free air, through all means possible. We fight for smoke-free public venues, for smoke-free cars and homes for children and the disabled and for drastic reductions in smoking rates to reduce the horrific damage caused by the tobacco industry in Australia.

Question: Should we not regard tobacco as a quasi-legal product. i.e.: A product which is only legal because it would be too dangerous to outlaw?

Margaret Hogge
President
PS Have you looked at the writing on a packet of cigarettes lately?

"BEST BEFORE NOVEMBER 2005"
Best for whom?

Congratulations to our Founder and Past President, Brian McBride.

He will be the recipient, on 20th March 2005, of the Thoracic Society of Australia and New Zealand's President's Award 2005. This award recognises an outstanding and effective contribution by an individual in the area of tobacco smoke control.

Past recipients of this award: Helen Clark, Prime Minister of New Zealand, in 2000.
A/Prof. Robyn Richmond, in 2001.
Hon. J. Thwaites, Vic. Minister for Health, in 2002.
Anne Jones, CEO of Action on Smoking and Health, in 2004.

It's especially good to see leaders in the medical profession recognising the magnificent and dedicated work which Brian has undertaken over the past 28 years in fighting for all Australians' rights to a healthier life in clean, tobacco free air.

Brian says he's feeling pretty "chuffed" at the news. Well done, Brian. You deserve this award. We will report further, with pictures, on the presentation in Perth.

***************************************************

Home Units and Public Housing

Last Update, Number 49, headlined with news about a case in NSW Court in which smoking bans were allowed to be included as a Strata title by-law.

We could see that further applications for smoking bans should be effective in protecting residents' basic rights to clean, smoke-free air. The Salerno Case of 1997 refers, however to the old Strata Titles act which has apparently been superseded by a new Act of 2000. Our original advice still stands, however. Our legal friend says an application for a by-law by a Body Corporate calling for smoke-free premises should succeed.

We would like to hear from anyone who wishes to propose this concept to a Body Corporate. .Apparently there are several condo associations in USA (similar to our Body Corporates) which have banned smoking even in individual units. Bodies Corporate can say whether or not you may have a pet, or hang washing on your balcony. A Body Corporate should protect all residents by controlling smoke drifting from one apartment or one balcony into another.

Pubs and Clubs (Licensed Premises)

Smoke-free Venues Update: Members are urged to support these venues and to speak or write in support to management:-
Austinmer Bowling Club, NSW
Toronto Royal Motor Yacht Club, NSW
Parachilna Hotel, SA
Mariner Hotel, Port Lincoln, SA
Margo's Supper Club, Turramurra, NSW
Metropole Hotel, Ipswich, Qld.
Hotel Y, Elizabeth St., Melbourne (10 years smoke-free)

Unfortunately, we are still waiting for the hospitality industry to provide protection from tobacco-smoke for its workers and patrons.

They smugly announce total-ban dates well into 2006 and 2007, saying that the industry needs incremental change and time to adapt.

We continue to call on Ministers for Health and for Industrial Relations to exercise their responsibilities and to use their powers to protect all of their constituents from the well-known and well-documented hazard of secondhand smoke.

Industry leaders must accept that no amount of gambling gains will make up for the health of their employees and patrons. It's not too late to declare all hospitality venues smoke-free immediately and bear the "brunt" of a minor backlash from disgruntled smoking gamblers. As we all know, regular smokers are already accustomed to going outside to smoke, at every other public indoor venue. Ask yourselves, should our communities depend on gambling profits to pay for everything from an Opera House to Junior Soccer Sponsorship to RSL building programmes?

President of NSMA, Margaret Hogge wrote to the licensee of the Cat and Fiddle Hotel, Balmain NSW asking that the one and only concert by world-renowned harmonica-player Brendan Power be declared smoke-free, saying that the fans would be coming primarily to hear the music, and not to smoke. The licensee point blank refused to oblige, so the few selfish smokers in the extremely crowded main bar concert area poisoned every body's air with their smoke.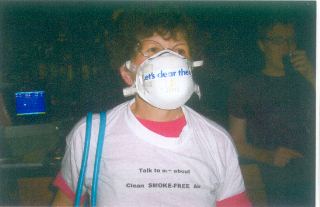 Your President at the Cat and Fiddle

Margaret wore a token mask for the entire concert, prompting some curious stares, but possibly causing many patrons to consider their unhealthy predicament. Action will continue on this matter.

Action also continues regarding the now former NSW Minister for Industrial Relations' alleged negligence in allowing Moama Bowling Club to resume business following action against it being terminated in court. We are still waiting for adequate answers from former Minister John Della Bosca. How did the club fulfil the intent of the action? Is the club now smoke-free? Would former employee, Steve Kane, who wore a mask to protect himself, now have protection from secondhand smoke if he worked there now?

We are continually reminded by NSW Government that the exemptions in the Smoke-free Environment Act will not affect duties owed under the Occupational Health and Safety Act, which in effect, says that employers must ensure that workplaces are free of known hazards. Come on all you Ministers for Industrial Relations, all you Worksafe officers do your duty and ensure that workers and the public are protected from the well-known and well-documented hazard of secondhand smoke.

NSW Parliament Library Research Service has produced its first Briefing Paper for 2005,for the information of Members of Parliament, "Tobacco Control in New South Wales" by Talina Drabsch. It can be downloaded from the NSW Parliament Website, and gives some valuable references for use in letters to media and to legislators.

Did you notice the media's comments on the "downturn in profits" since Tasmania's gambling venues went smoke-free on 1st January? Did you notice any favourable comments on the quality of the clean air in the venues now?

Australian Medical Association (AMA) in Western Australia is putting pressure on the Gallop Government, through Worksafe, to stop hotel workers being exposed to tobacco smoke It calls for a complete and immediate ban on smoking in all pubs and clubs. Graham Kierath was Minister for Industrial Relations when the current regulations were drafted. Following a visit to a Subiaco hotel, he and two AMA members have made statuary declarations outlining the extent of employees' exposure to secondhand smoke.

************************************************

Our dedicated NSMA member in Queensland, Ken Bishop wrote the following to Minister for Health, Hon. Gordon Nuttall

"It's not as if the bad news about secondhand smoke has only just arrived: the reforms you wrote about (fractional phasing in of smoking bans) must have required dedicated effort to divert sufficient attention away from the scientific condemnation of tobacco, and turn the objective and provisions of the Workplace Health and Safety Act 1995 into a fossil relic of occupational health and safety where secondhand smoke is concerned.

"Anything less than responsible reform will be a hostile act against members of the public and will attract claims of complicity in unlawful killing (or is that lawful killing), manslaughter and murder".

Minister, who do you think should bear responsibility for the deaths and injuries arising from the pyrrhic victory of proponents of delayed smoking bans?"

****************************************

Dates for smoking bans in Pubs and Clubs around Australia. (Excluding High Roller rooms)

Tasmania January 2006, Queensland Mid-2006, ACT End-2006, NSW and Victoria Mid-2007, South Australia Oct 2007, Western Australia July 2006. NT - no date set.

************************************************

Smoking in Cars

Congratulations to Federal Democrats Leader Senator Lyn Allison, for calling for smoking to be banned while driving.

Senator Allison is primarily concerned with the distractions of smoking (similar to not having full control of the vehicle while using a handheld mobile phone). She is also concerned with prevention of bushfires and with reducing the incidence of cancer.

We add to Senator Allison's call, by saying that nobody should be allowed to smoke in a vehicle at all, due to the well-known dangers of secondhand tobacco smoke, especially in confined spaces, and with children and disabled present Seatbelts are compulsory, as well as special restraints for infants in all private vehicles. Banning all smoking while children and disabled people are in a private vehicles is the obvious next step in protecting them.


Victoria: Next Steps in Tobacco Reform.

Our submission, with a deadline of mid-January, reminded the Victorian government of its paramount obligation and responsibility to ensure that everybody has access to safe, healthy public places, free of secondhand smoke, a known health hazard.

Tobacco Advertising

We have made a formal complaint to Canberra, Dept of Health and Ageing, regarding a leading Motorcycle magazine which published an article about a machine which had been ridden in the recent Phillip Island Grand Prix.

The article included 30 images of the Marlboro logo. We claim that this is a tobacco promotion/advertisement, not a story about a motorcycle and that the reference to the Grand Prix (where tobacco advertising is allowed until 2006) was incidental.

Restrictions on Smoking in Central Business District (Sydney)

We are pleased that the current Lord Mayor of Sydney, Clover Moore MP, is prepared to consider our suggestions for a smoke-free Central Business District (CBD).

We had written suggesting Designated Outdoor Smoking Areas, in order to restrict and contain smoke and cigarette litter.

Crowded Outdoor Events

"For the comfort of others, especially the children, please move away from the crowd if you wish to Smoke" We are also pleased that, following our requests, announcements were made at some of the Children's Festive Outdoor Concerts held in Sydney's parks before Christmas.

It's similar to asking patrons to turn off their mobile phones in the cinema we don't need laws and regulations to make these announcements and it's not discriminatory to make such a request we're not asking smokers to stay away from the event, simply to move away to smoke. We asked organisers of the Sydney Festival's major outdoor concerts (Jazz at the Domain, Symphony at the Domain, Jazz at Parramatta Park) to make similar announcements, but they had other "priorities". They agreed to consider our suggestions favourably for next year. President of NSMA, a dedicated jazz and blues fan, attended two of the concerts. She wore standard NSMA attire for any future music events where smoking is still condoned - a banner saying "If you don't smoke in the crowd, I won't sing!"

**********************************************

Canberra, ACT Report from Geraldine Spencer (former Editor ASHES to DUST)

Quit advice will be available to patients at Canberra's public hospitals from January 2005. Cigarette vending machines will not be allowed after end 2005. Exemptions permitting smoking in enclosed licensed premises will cease, end of 2006.

In 2002, 16% of secondary students had smoked in the previous week, a decline from 21% in 1996. In 2002, males 16-17years smoked 31 cigarettes, females 20, per week. Top venues for smoking: dance/nightclub/party: 29%; school grounds: 18%;, friends homes:11%, at home:10%.

Clean Air rights around the World.

Smoke-free Indoor venues in New Zealand.
Why are we still waiting? One of our members, Noel Evans from Western Australia, visited New Zealand and reports "I arrived on the first day of the Smoking Bans 11th December and there was hardly a ripple. Certainly no trouble everybody simply took it in their stride. He went to a Service club which still stank of stale smoke, but was bearable because of no fresh smoke around. The Press tried to stir things up a bit, but there were no controversial stories and pictures of violence in the streets (as AHA President John Thorpe predicts for Australia).

Casinos were ready for the smoking bans, to the extent they had separate airlock areas on their balconies, preventing smoke from drifting indoors. Noel travelled back through Brisbane in early January and was delighted with the smoke-free sporting venues, introduced that month.

********************************************

Smoke-free Indoor venues in Italy
Strict laws took effect banning smoking in all public places unless there is a separate area with continuous floor to ceiling walls and a ventilation system.||why are we still waiting?

***************************************

Cuba, (pop. 11mill.) the land of the "fine cigar" will ban smoking in enclosed public spaces from February 2005. About half of Cuban adults smoke lung cancer is a major cause of death. Restaurants, cafes and nightclubs will have non-smoking "areas". Apparently Fidel Castro gave up smoking in 1986.

**********************************************

The Vatican has declared that "smokers must take moral responsibility for damaging their health and others." Smoking hasn't yet been declared a sin yet, but Big Tobacco should take note.

|||**********************************************

Scotland has legislated for total bans in all indoor workplaces including pubs and clubs and restaurants by March 2006||Why are we still waiting?

***********************************************

Asthma and Smoking

With Australia having the highest incidence of childhood asthma in the world, and with tobacco-smoke being an easily preventable trigger of asthma, our legislators should do as much as possible to prevent our most vulnerable citizens from this hazard. Tobacco smoke is not only hazardous it is also highly discriminatory in nature. By allowing smoking at a venue (indoors or outdoors), proprietors are effectively banning asthmatics from attending that venue. No-one asks smokers not to come into the venues simply not to smoke there.

We welcome the Asthma and Allergy Research Institute (AARI),based in Western Australia into our smoke-free alliance, Smokefree Australia, and hope that action soon arises to force further protection for asthmatics and others who suffer from medical intolerance to tobacco smoke.

It can affect many aspects of their lives, from departing hospital premises as infants through a fog of "refugee smokers", using public footpaths, entering licensed premises, growing up with friends who take up smoking, considering jobs in the Hospitality industry, and attending private parties with friends.

Members of NSMA who visit Lake Cathie, NSW are urged to support Lake Cathie Newsagency at Shop4/1613 Ocean Drive and to congratulate Brian and Siobhan Smith for making the break from selling tobacco products - they "hate the stuff anyway".

Quit Victoria commemorating 20 years.

Congratulations for your achievements in reducing smoking rates and in gaining legislation for smoke-free venues.

Tobacco Out of Sight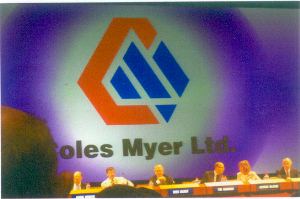 Coles Myer AGM

President of NSMA, Margaret Hogge attended the Annual General Meetings of Coles/Myer (in Melbourne) and of Woolworths (in Sydney) in November, calling for tobacco products to be placed out of sight, as well as calling for eventual phasing out of selling these deadly products altogether.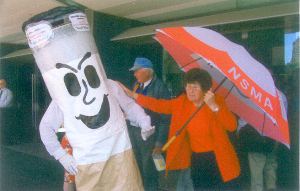 Mr Butts

These companies have a similar philosophy to that of the Prime Minister that this is a legal product, so they will continue to profit from it. No mention of the fact that it kills more Australians than any other product available, and certainly no mention of the percentage which tobacco sales make towards their overall bottom line.

We will continue with our requests, especially as these companies have a wide share-holder base, including many individuals who would probably prefer not to be part of the tobacco industry's supply-chain.


During her brief visit to Melbourne, Margaret was able to catch up with three of NSMA's faithful and dedicated members, and to chat with some others about their particular concerns, including smoking in hospital grounds, and on rail platforms.

**************************************************

NSMA Members are urged to attend some or all of the National Tobacco Control Conference on 23, 24, 25th November in Sydney this year.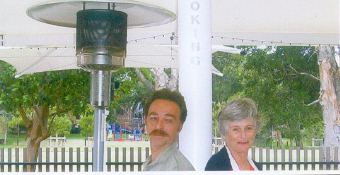 No Smoking Outdoor Area at Avalon RSL

NSMA Committee members, Vice-President Owen Graham and Secretary, Denny Mountford celebrating the first smoke-free outdoors RSL restaurant in NSW at Avalon. A beautiful location, using leased public land, and overlooking public parkland. The lease is valid with the condition that the area remains smoke-free.