Non Smokers' Update
Issue 49, October 2004
---
SMOKING IN COMMUNITY HOUSING AND HOME UNITS
We have recently been advised that home unit dwellers in Strata Title blocks have the right under NSW Case Law to declare their blocks smokefree, for the sake of residents whose health may be endangered by secondhand smoke. Our informant advised us of the case of Salerno vs. Proprietors of Strata Plan No. 42724, which was settled in the Supreme Court of NSW on 8 April 1997.
We are investigating the implications of this case for NSW residents, and also for all other parts of Australia We have written to NSW Dept. of Housing requesting that, in the interests of all residents of Public Housing, the Department should declare all residences smokefree and should provide Designated Outdoor Smoking Areas. The Department should also move towards declaring the majority of blocks totally smokefree and only allow outdoor smoking at a restricted number of blocks. Many residents of Public Housing are either too young or too disabled to defend themselves against the well-known dangers of secondhand smoke, and it is the Department's responsibility to provide for their health and safety in the home.
We have written to the relevant Strata Titles/Body Corporate authorities complaining that in the past they have advised us incorrectly that there was nothing that unit-dwellers could do about secondhand smoke, when those authorities must have been aware of the Salerno case, its outcome and its widespread implications.
Burn, Baby, Burn!!!
A struggling Victorian Fire Authority near Myrtleford has accepted a gift of a vehicle from British American Tobacco Australia, according to Simon Chapman.(Sydney Uni.) Myrtleford happens to be the centre of the tobacco-growing industry in Victoria. Cigarettes cause over 4000 fires each year in Australia. Wouldn't it be sad if a "lucky strike" caused the tobacco crop to go up in flames and the "firies" were busy elsewhere.
Editorial - Some Memories from Ireland
Firstly, I would like to thank the rest of our committee, especially past President Brian McBride, for standing in while I was away travelling around UK, Ireland, Paris and Oslo for the European summer. We had planned this trip about 3 years ago, before I joined the Non-Smokers' Movement.
Thanks, especially, for keeping up the pressure on Workcover NSW regarding the Moama Case (see separate article below).
Our travels were punctuated with some varied tasks and interests, including collecting some historical images, and some fascinating genealogical data, enjoying gorgeous gardens and architecture and wonderful music.
Also, I took the opportunity to visit the offices of ASH (Action on Smoking and Health) in London and in Dublin, to exchange some ideas and to congratulate the latter on their part in the Republic of Ireland's highly successful transition to leadership of the world in the fight for clean, smokefree air in the workplace.
Even my skeptical husband agrees that smoking bans are working well in the Emerald Isle, since all workplaces went smoke-free on 29th March 2004.
I was thrilled to experience a week of smokefree pubs in Ireland, to enjoy the food and the "craic", the music and friendly atmosphere without the previously all-pervading choking stink of tobacco smoke. The pubs were as busy as usual, some almost too crowded.
At the first pub, we met Jerry, a smoker, who was enjoying a Guiness. He said he doesn't object to the smoking bans because he can go outside to smoke and that when he goes home he doesn't stink of tobacco smoke. I met some musicians in another pub - a young Aussie fiddler was really happy not to be forced to suck in all the smoke any more. At one pub in Dublin, which we remembered visiting eight years ago, the musicians and the barworkers agreed that work is so much better now that they are protected.
Congratulations to the Government Leaders for showing guts and for using their power and responsibility to protect their constituents' rights to clean, smokefree air. Another interesting experience was to go on a "pub-crawl" of some smokefree pubs in England and Scotland. We started at The Phoenix in central Glasgow, and visited six others of the Laurel Pubs Chain. See
www.laurelpubco.com
.
Management has responded to the growing call, especially from families, for clean air venues. The best pub was the beautiful and historic Spice Islands Pub in Old Portsmouth. That's the area in which I had only recently spent over two years campaigning for smoking bans in restaurants, pubs and other public places.
We're home and settled back now, the tent packed away, and Clean Air Campaign hat firmly in place.
Margaret Hogge (President)
PS: While collecting historical images, I came across a fine portrait of Sir Joseph Banks in a pub in Boston, England, near his birthplace. In early convict days in Australia, Sir Joe had suggested that tobacco be grown for the good of the masses. I'm pleased to say he now looks out over the
Non Smoking Area
of the pub!
Action against WorkcoverNSW for failing to pursue Moama Club
We have complained to the NSW Ombudsman and ICAC (Independent Commission against Corruption) regarding the appalling case of dereliction of duty by NSW Workcover following interference by Clubs' hierarchy and paying off of former barman Steve Kane. The so-called intent of the Improvement Notice was said to have been complied with. However, smoking continues to be allowed in the Moama Club and Workcover has shown gross dereliction in allowing the case to fold in this way. ASH (Action on Smoking and Health) our partners in Smokefree Australia are taking similar action.
According to Occupational Health and Safety Law, employers "must" ensure that workers and the public are protected from known hazards. Secondhand smoke is a proven and preventable health hazard and yet Workcover fails to ensure that this protection is provided. Workcover always ensures that workers are protected from asbestos. Do the same for tobacco smoke, Workcover!
The Smoke you have when you're not having a Smoke
Tests conducted recently on some non-smoker musicians show that they breathed in the equivalent of 4 cigarettes in 2 hours in a well-ventilated pub.
I chatted with one of those musicians, jazz violinist and singer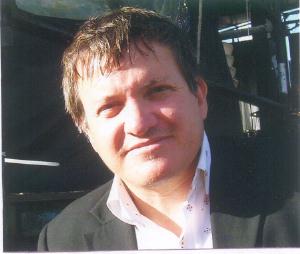 George Washingmachine
at the recent smokefree outdoors Manly International Jazz Festival. He had just given two terrific concerts. He says he hates working in smoky venues, knowing that it endangers his health, and that the smoke stinks. George undertook the medically supervised urine tests in an attempt to persuade the NSW State Government that secondhand smoke has an immediate and measurable effect on the body, one that can only be avoided by declaring all workplaces totally smokefree.
We continually remind all governments that so-called "incremental change" has already occurred smokers are accustomed to going outside to smoke. Also, many smokers would be waiting for the bans so they can quit smoking more easily.
Owners and managers of pubs, clubs and casinos are continually fed lies and false statistics about potential lost profits when smoking bans eventually occur. Many of them would be hoping for early dates for total bans in order to protect their own and their staff's health, and so they can finally attract the majority of the population which doesn't smoke and which stays away from smoky venues in droves. They must gaze enviously at the popularity and profitability of restaurants since that sector went smokefree.
Why don't they question Australian Hotels' Association's (AHA)'s and Clubs' bosses' motives and propaganda?
The dinosaurs in the business, the leaders of the pubs and clubs associations battle to maintain the status quo. They are ready for retirement very soon and will probably reap some fat rewards from the tobacco industry for their part in delaying smoking bans so far.
Australian Hotels Association (AHA) National President, Mr. John Thorpe, continues to bluster about, claiming there will be huge loss of jobs, major downturn in profits, civil unrest, and almost total destruction of the economy if pubs, clubs and casinos were to go smokefree before his deadline of post-2006.
I seem to recall that his position as National President finishes in 2006 then he'll be able to leave the total mess to his successor, and he'll walk away with some cushy rewards from AHA's partners in the tobacco industry. AHA boasts about
"Educating our Youth"
- encouraging high-school students to take up hospitality training.
How much
warning
is provided to students about the hazards to which they will be exposed on an hourly basis if they take up hospitality careers?
Discrimination
- the AHA claims to follow anti-discrimination guidelines, saying it is against the law to discriminate against someone or harass them on the basis of their disability (amongst other matters). We challenge them to stop discriminating against everyone (worker or patron) who is unwilling or unable to tolerate tobacco smoke.
Not only that, AHA(NSW) has developed its own in-house Occupational Health and Safety
"Hazard Free Hotels"
programme to assist hoteliers towards safer workplaces, etc. Can we assume that the subject of smoking never arises?
Protest Rally held at NSW Parliament Tuesday 31st August 2004
Our members came out in force this time, on the first day of Parliament's new Term. Speakers included Dr. Gullotta, from Australian Medical Association (AMA), Dr. Arthur Chesterfield-Evans (MP and Leader of Democrats and former President of NSMA), Stafford Sanders, Media Co-ordinator for Smokefree Australia, as well as our own Brian McBride.
We were reported as being those "pesky" anti-tobacco protesters. Thanks very much for everyone's support. We will continue to demand total smoking bans in all NSW hospitality venues immediately.
Premier Beattie and the Queensland Government
have set a date for smoking bans in hospitality venues and plan to extend bans to playgrounds and alfresco dining. We wrote, indicating that we are pleased that the government acknowledges the dangers of secondhand smoke but that we are appalled that workers and patrons are expected to wait until July 2006 for total bans in pubs, clubs and casinos.
Premier Lennon and Tasmania's Government
have gone further and legislated for total bans by January 2006. We have sent messages of congratulations and will continue to fight for a much earlier date for bans to be implemented. The government has acknowledged that total bans are needed, so we must convince them that so-called incremental change is unnecessary as it has already occurred.
In
Western Australia
, the AMA has threatened legal action against the Premier Gallop's Government on behalf of people whose health is damaged by secondhand smoke.
Stop Press October 2004
Immediately after this Update No. 49 Newsletter went to print, the
New South Wales and Victorian Governments
made announcements about smoking bans in hospitality venues. You would have heard about them, and you would have heard the cries of "lost revenue, lost jobs, and projected lost taxes" from Australian Hotels Association, etc.
The Planned (but not yet legislated) bans are:
July 1, 2005
- Smoking only allowed in one room, either a bar or a gaming room, which cannot be more than 50% of a venue's combined bar, gambling and recreational areas. (The Health Inspectors will have fun with this one)
July 1, 2006
- The single room where smoking is allowed will be restricted to 25% of the combined bar, gambling and recreation areas. (More fun for the Inspectors.)
July 1, 2007
- Complete smoking ban indoors. Exception: High rollers and private gaming - no date for this ban, to be reviewed annually.
We had honestly expected much earlier dates for smoking bans in NSW, until the recent "leak" that Treasurer Egan, (himself a smoker) is extremely worried about the downturn in gambling tax revenue. Obviously the workers' safety, and overwhelming public opinion are worth nothing to these politicians who already have smoke-free working conditions!
Governments' greed for revenue and power smothers any rights to clean air which hospitality workers and patrons undeniably deserve. Everybody has a right to Clean, Smoke-free Air. We have already taken action through ICAC and Omsbudsman channels, concerning Occupational Health and Safety breaches. We plan to protest long and loud on these delays, as well as in other States.
Listen out, speak out, and write, please, to show that these delays are intolerable, discriminatory, and dangerous.
First Smokefree Outdoor Jazz Festival in Australia
Wow! At last we were able to enjoy music in the great outdoors, and beside the sea without being forced to breathe in dangerous, stinking tobacco smoke.
Manly Council, across the Harbour from Sydney, has presented a wonderful Jazz Festival for 27 years, during the October Long Weekend. This was the first one at which all outdoor events were smokefree. Some smokers lit up in the crowds, but were quite obliging and not abusive when told it was a smokefree event - they tended to move on or stub out the offending cigarette.
Ironically, the "Fringe Festival" events, held indoors in pubs and clubs were predominantly smoky and should not have been allowed to advertise under the banner of a smokefree festival.
We have congratulated Mayor Dr.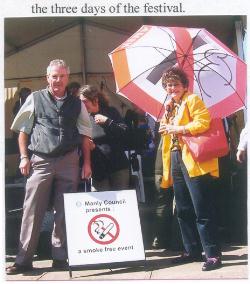 Peter Macdonald
and Manly Council on a magnificent effort, and suggested that next year's event should have Designated Outdoor Smoking Areas (to restrict outdoor smoking to fewer spaces), and that all indoor spaces should also be smokefree for at least the three days of the festival.
Smokefree Alfresco Dining
Mosman Council in Sydney is implementing a smokefree alfresco dining policy wherever outdoor eateries use council-owned land.
Anne Jones from ASH and I were invited by the Deputy Mayor, Councillor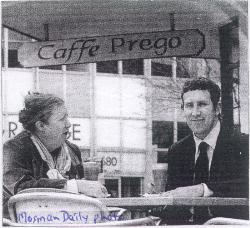 Andrew Brown and Mayor Shirley Jenkins
to address the council meeting. The council's action has of course prompted the usual rash of smokers' hysteria in the local media, with smokers and their supporters huffing and puffing that local councils have no right to remove smokers' freedom to use a legally available product. Smokers say the fumes from vehicles are far worse than tobacco smoke.

Our rejoinder is that "smokers remove our basic rights to clean air whenever they light up in public." There are existing and sensible laws to protect us from the dangers of unhealthy emissions from vehicle exhausts. We are grateful that local councillors show the guts to legislate to protect us from smokers' emissions and to protect everyone's rights to clean air.

EU health chief vows smoking crackdown

Europe's incoming commissioner for health and food safety has pledged to crack down on smoking, saying there is no bigger evil to be battled than cigarettes and encouraging national bans across the 25-nation European Union.

Markos Kyprianou, a Cypriot, said he hoped that after five years all EU governments would impose smoking bans and build on Ireland's example earlier this year. "There's no greater scourge that is to be combated than smoking and cigarettes," he said.

"Europeans deserve protection against smoking at the place of work and in other public areas," he said. "I have no problem taking on the tobacco industry... and in countries where smoking has been banned, the results are positive."

Since Ireland's bans in March 2004, Norway and Malta have also instituted similar smoking bans, and Sweden is scheduled to do likewise next year.

He also pledged to tackle cigarette advertising on television and the cinema. "The hero of a film should not be a smoker," he said. "I would like to work together with the cinema industry to avoid this sort of thing. The same is true for television: if a programme glorifies smoking, it should not be shown at hours where it can be seen by young people," he said.




Smoking in Films

New Zealand watch out we're coming over!!!

The Land of the Long White Cloud will go smokefree in all indoor public places on 10th December this year. Of course, the usual squeals of "nanny-state" and "tobacco nazis" have emerged from pro-tobacco groups.

We send our congratulations to another forward-thinking Government, which uses its power to protect every body's basic rights to clean air.

Myriam Cauvin - Still battling the Marlboro Man

Myriam Cauvin may not have won her fight to force the tobacco industry to set up a compensation fund for smokers but she can continue to fight for her own rights to compensation, according to Neil Francey her legal counsel.

We wish Myriam good luck in her further battle against the tobacco industry. Also, we congratulate Neil on standing as a "Breath of Fresh Air" Independent for the Federal Seat of Warringah against Tony Abbott the Howard Government's Minister for Health.

Supermarket checkouts selling tobacco

We have a reply from the NSW Minister for Health following our query. We understand that the correct "Smoking Kills" and age-specific signage must be visible at point of sale or it would be illegal to sell tobacco products at such points ( e.g. at regular checkouts, as distinct from the specialist tobacco counter in supermarkets). We are waiting for NSW Health Department's legal branch's pronouncement on this matter. Anything which restricts or slows down tobacco sales can only be good.

You can't do that!

A tobacconist and gift seller in Sydney's west was recently fined for using the word "discount" in its business name.

And what did you do to earn your Order of Australia, Ms. Zampatti?

We question the fact that so-called upright citizens of Australia are awarded our highest orders and offices despite the fact that they are, or have been, Directors of multi-million dollar enterprises which produce and market tobacco, the deadliest product on the planet.

Carla Zampatti, the late Roden Cutler, Rupert Murdoch, and Nick Greiner are some of them. Unfortunately, the value of these awards in the community is tarnished and downgraded whenever high-flyers associated with this evil industry are presented with them.

Council for Civil Liberties

We have written to NSW's Council for Civil Liberties, calling for their assistance in promoting our basic rights to clean, smoke-free air. Their rules include recognition of that right.

Airport Exits and Entrances

It is really disgusting to enter and leave an airport and be forced to dodge smokers at every doorway. Smokers should be directed to Designated Outdoor Smoking Areas, a limited number of well-marked spaces with ash-cans, at least 10 metres from doorways. This would restrict smoke away from doorways.

We have requested that Sydney Airport Corporation provide such areas, and have offered to discuss the matter with them as well as with Tourism Authorities.

Federal Election Results

Liberal Party Headquarters responded to our 3 simple smoking-related questions with a three-page letter, failing to provide one answer.

What should we expect from the party which kowtows to Nick Greiner AM, who was until recently Chairman of British American Tobacco Australia? We will continue to demand that the Howard Government's replies to these questions, regarding projected death rates from tobacco and projected smoking rates. We insist that Australia's Governments set measurable goals in the fight against tobacco. We will again point out the three fastest, simplest, and most cost-effective measures of reducing smoking rates:

Ban advertising (including films).
Ban smoking in public places.
Increase taxes on tobacco, directing the extra funds to anti-tobacco messages.