[Home Page] [Updates List] [Bottom]
| | |
| --- | --- |
| | Non Smokers' Update |
Issue 35, February - May 2001
The Non-Smokers' Movement of Australia Inc, Box K860, Haymarket NSW 1240.
Web page www.nsma.org.au
---
HISTORIC PASSIVE SMOKING DAMAGES VICTORY - MARLENE SHARP WINS $466,000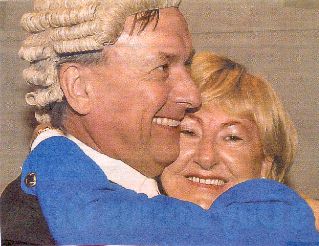 Marlene Sharp thanks barrister Peter Semmler QC after winning her historic case on 2 May 2001
On 2 May 2001 The NSW Supreme Court awarded Mrs Marlene Sharp a total of $466,000 in damages for throat cancer caused by passive smoking over 11 years working as a bar attendant in the smoke polluted Port Kembla RSL Club. The verdict was given by a four man jury after four hours of deliberating over the seven weeks of extensive medical and environmental evidence. Marlene is unable to work again, particularly in the hospitality industry where there is virtually a guarantee of further exposure to Environmental Tobacco Smoke (ETS). Prior to working for the RSL Club she had worked at the Port Kembla Hotel where she also suffered exposure to ETS for the previous ten years. She sued both of those employers for negligent breach of their statutory duty to provide her with a safe place of work under the 1962 Factories & Shops Act.
We applaud this courageous lady and her legal team for battling on over three years to win a magnificent victory against the combined forces of a determined insurance company and a desperate tobacco industry. We also express our appreciation of the great contribution by the legal team led by Peter Semmler QC and solicitor Ms Miki Milicevic. Without their agreement to run the case on a "no win no fee" basis the case would never have reached the court because the risks and the costs would be prohibitive.
FIRST DEFENDANT SETTLES QUICKLY
The case against the first employer, Port Kembla Hotel, was settled quickly when they conceded that Marlene had been injured by passive smoking and paid up under terms not to be disclosed, but believed to be about $160,000. However, the second employer, Port Kembla RSL Club, and their insurers QBE would not settle and forced the matter to go to court. This was partly due to the direction of The Workcover Authority of NSW, which controls the pooled Workers' Compensation Fund, not to allow settlement. They were afraid that the floodgates would open for other club and hotel workers to make similar claims. The NSW government and the Minister for Industrial Relations are guilty of hypocrisy in supporting spending over $1 million dollars in fighting against this worker getting justice for her workplace related illness. The Workcover Authority clearly has a major conflict of interest that should be removed as soon as possible.
WILL FORCE SMOKE-FREE CLUBS
Mrs Sharp's barrister, Mr Peter Semmler QC, said this was a "world first" jury decision that passive smoking caused cancer and the implications now suggest that clubs and hotels will have to become smoke-free in the near future. Marlene, who is 62, claimed she developed cancer because of years of passive smoking. She worked for her second employer, the Port Kembla RSL, for 11 years between 1984 and 1995 before being diagnosed with cancer of the larynx. In the NSW Supreme Court, Peter Semmler, QC, said Mrs Sharp had never smoked but had been exposed to large amounts of other people's cigarette smoke. Mrs Sharp sued for breach of the New South Wales Factories, Shops and Industries Act (FSI), 1962 (which became the Occupational Health and Safety Act 1982), and for common law negligence. The damages sought include lost earnings since 1995, out-of-pocket expenses, medical costs and carer's compensation for her family. At the time of writing there is still the possibility on an appeal being lodged within the 28 day period allowed.
Evidence of constant exposure to ETS. Mrs Sharp, giving her evidence in a faint, gravelly voice, said her duties at the RSL included cleaning ashtrays which often had lit cigarette butts in them, and working constantly only inches away from smokers. In one area there were 13 ashtrays along the bar where she worked, as well as metal troughs for cigarette butts underneath. "It was dirty," she said. "You had to get around and empty all the ashtrays into a bucket and the ash would go over you. "Some of the butts were still alight and they were in the bucket and you'd be smelling it." Mr Semmler said ventilation at the club had been poor and the air-conditioning and exhaust fans were insufficient. Mrs Sharp took up bartending to support her two children after separating from her first husband in 1972. She found she had cancer when she noticed a lump on her neck one morning in 1995. She was putting on her make-up and noticed a small lump on the right side of her neck. After having the lump surgically removed it was discovered it was a malignant tumour. Further examinations found cancer at the back of Mrs Sharp's throat.
This cancer is specific to smoking. Almost all laryngeal cancers are caused by tobacco smoke and Mr Semmler presented testimony from expert witnesses, including the surgeon who removed Mrs Sharp's second tumour, to prove this fact to the standard required by the court. Although Mrs Sharp was in remission, she still suffered symptoms, including difficulty eating, sleeping and speaking as well as depression and anxiety. She lives under the constant threat that the cancer could re-emerge. Mr Semmler said Port Kembla RSL had contravened the FSI Act in allowing cigarette smoke to build up in the club and hence did not provide a safe working environment under the OHS Act. He said passive smoking had either "caused" or at least "materially contributed" to Mrs Sharp's cancer.
Tobacco "expert" Witnesses
American tobacco companies paid Dr. Philip Witorsch up to $A 512 an hour and flew him first class around the world to many conferences where he gave evidence that passive smoking did not cause lung cancer or serious respiratory disease. It should be no surprise that he turned up again to give evidence against Marlene in this case. He conceded that his opinion that environmental tobacco smoke (ETS) did not cause cancer was not supported by any medical organisation that was not being paid for by tobacco companies. Mr Semmler asked if he considered he had ever been in bed with the tobacco industry. Dr. Witorsch replied NO! ( Ed. Could it be that this bed is so big he could not see who else is in there?). Another imported defence expert was Professor Schwartz. He admitted during cross examination by Peter Semmler, that he had been part of a global strategy by the tobacco companies to set up teams of scientists in the 1980's to carry out work on environmental tobacco smoke to keep controversy about it alive.
Independent Australian Medical Experts.
Mr. Semmler did an excellent job of showing the tobacco industry apologists to be exactly that. The real substance of the medical evidence was put by the Australian experts, Prof. Bernie Stewart, Dr Stephen Vaughan, and the operating surgeon who removed the cancer, Prof. Christopher O'Brien. They convinced the jury that their evidence on the causation of Mrs Sharp's cancer was based on real science and concurred with the overwhelming weight of world medical opinion. Evidence was given of the theory of biological processes when a body is constantly bombarded with carcinogenic materials. The immune system is constantly throwing up defences but at some point they can no longer cope and eventually cancer develops.
Will help many others
Marlene sobbed tears of relief when the verdict was given in her favour. Outside the court she quietly expressed her appreciation to all who helped her and modestly hoped that in fighting it out she had achieved something to help many others avoid a similar fate. There is no doubt this case will frighten the pants off all club directors and all hotel owners, because the big award of damages will open the door for many other cases. They deserve no sympathy because they have cynically exploited their own workers, knowing full well that every other worker was protected by laws which they choose to ignore. One of the very sad facts about these health damage cases is that plaintiffs are often so sick that they can't face the extra strain of a court battle in uncharted territory. If someone has pioneered the way with a test case it is much easier for others to follow. That is why we should be grateful to Marlene for this action, as we are to other heroic pioneers like our members Roy Bishop, Joy Hart, Liesel Scholem, and others. This gruelling case started before Justice Peter McClellan in March and lasted over seven weeks.
Action Point No. 1. Send a note of appreciation to the people responsible and thank them for the wonderful contribution they have made to the cause of winning tobacco free clubs, hotels and all public places. - Mrs Marlene Sharp, C/- NSMA, Box 6, Trades Hall, 4 Goulburn Street, Sydney 2000. (we will collect and forward all mail). - Ms Miki Milecivic, Milecivic Solicitors, Level 7, 370 Pitt Street, Sydney 2000. Tel: 9264 6499 Fax: 9264 7337. - Mr Peter Semmler, 31/52 Martin Place, Sydney 2000. Tel: 9235 1657.
Immediate follow up Action by NSMA.
Members will remember that last World No Tobacco Day on 31 May 2000 we distributed leaflets to bar workers in hotels in Sydney (See Update No. 32). These leaflets warned hotel staff that they were regarded as expendable by the NSW Government because bar staff were not included, even though Casino workers were included, in the new indoor smoking bans about to be proclaimed. We warned against the exact problem that Marlene Sharp has experienced. Hence as soon as the verdict was made public we again distributed a few more leaflets for the benefit of Channel Seven TV cameras to show that we would do out bit to ensure more bar workers spoke up for themselves and demanded real protection under occupational health laws.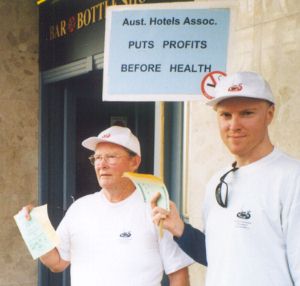 Channel Seven films NSMA members distributing "know your rights" leaflets to Sydney hotel bar workers
The photos show our members being interviewed as we delivered the good news to bar workers and encouraged them to act. The actions of NSMA members were featured in Channel Seven News in NSW on 3 May 2001 with the message that people were demanding immediate action to ban smoking in clubs and hotels.
Future Developments
There was a great media frenzy over the first few days after the decision was announced. All the health lobby spokespersons in all states were hitting the air waves in response to the media's pursuit of an answer to the question; 'Will this mean the Government would or should extend legislation to ban smoking in all enclosed public premises including clubs and hotels, as well as restaurants?" The NSW Health Minister Craig Knowles was indecisive and prevaricated about this key question. He said it would mean that insurers would drive future changes and that no legislation was contemplated because it had to follow community support and attitudes. He also made the amazing statement on radio 2GB on 3 May that the court's decision was not a surprise to him and that he knew, sooner or later, some worker would win such a case.
Minister Challenged.
NSMA President, Brian McBride, managed to get on the same radio station within the hour and criticised the Minister for failing to act when he apparently admitted he knew that such workers were at risk. Brian said the occupational health laws were not about compensating workers after they suffered injury; they were supposed to protect all workers from "even the risk" of injury from a known health risk. He said Workcover inspectors could go out tomorrow and raise millions in fines at the rate of $500,000 for a first offence where companies failed in their statutory duty to protect workers from passive smoking. Under government direction, Workcover has failed in the past, and appeared set to fail in the future. They lack the political backing to do their duty by enforcing existing laws.
The Minister is copping out on this problem by hoping the insurance companies are going to force change by refusing to cover clubs and pubs unless they ban smoking. The Federal Health Minister is also copping out, saying "it is a matter for the State Health Ministers". This is not a time to thank right-minded health ministers for the snails pace of reform achieved so far; rather it is time to keep hammering them about their obligations to act on the clear evidence before them. They must show they are leaders not followers, and get on with taking the hard decisions.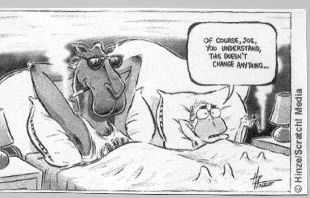 Liberals still in the big bed with the big money
Hopeful Signs.
It was very encouraging to see the Registered Clubs Association quickly put out a circular to all their members warning them that they should ban smoking or take appropriate action to protect themselves from future litigation and rises in insurance premiums. It was reported that one bowling club in Dubbo has already announced that it is now totally smoke-free. Let us hope that many more will follow.
Action Point 2. Write to the NSW Minister for Health, The Hon. Craig Knowles, Parliament House, Macquarie Street, Sydney 2000, and demand immediate legislative action to ban smoking in all enclosed public buildings including clubs and hotels.
TASMANIA SMOKE-FREE FROM SEPTEMBER 2001
Congratulations to all
A great team effort by the whole health lobby was rewarded with the final approval given by the Tasmanian Legislative Council on 3 March 2001. The following account is based on information from those close to the action.
Final preparations:
The health lobby team had all fingers crossed as they went into Parliament for a final briefing of Legislative Councillors. The first presentation was by Philip Morris, then the Australian Hotels Association, (who wanted to weaken and delay the Bill) followed by anti-gambling groups (who wanted the Bill strengthened to cover gaming), the restaurants (who supported the Bill), then the unions (who wanted the Bill strengthened), followed by the Heart Foundation (Wayne John) and Dr. Richard Wood-Baker (Respiratory Physician & representing Smoke-Free Tasmania/Cancer Council) and Anne Jones (ASH), and finally a couple of government people (Martin Bicevskis & Kathy Barnsley).
Tight Result on 3 March: The Bill just scraped through the Legislative Council on 3 March. The section which related to the exemption for bar areas (which in this case includes all licensed areas with a bar, including both restaurants and bars) was only passed by one vote (7 to 6). There were some amendments and the date was put back to September 1. Intensive lobbying by health groups right down to the last few minutes was crucial. Lawson Ride (Cancer), Mike Wilson (Quit) and Ian Gordon (Heart) were out lobbying until the very last. Wayne John (from Heart, with the help of Christina Wolfe) produced a wonderful package of documents to help convince individual members of the importance of the legislation.
Crucial Work
Their work was crucial and was extensively quoted by the Members in the debate. A thoroughly professional job was done by the Heart Foundation. It started with the visit of James Repace last year and culminated in a great piece of legislation. Great work was done last year by Todd Harper and Michelle Scollo, Anne Jones and others in strengthening the economic arguments for the media debate. They talked to, and provided information to, a well-known economist who writes for a local newspaper which also helped. He wrote a great article which said that the economic facts suggested that "smoke-free" was in fact, better for business. Both the ventilation and economic arguments were won early on in the debate by convincing the media and public. Health groups did this brilliantly. Cancer, Quit and Heart - take a bow! Anne Jones from ASH was a tower of strength as were Todd Harper, Jane Martin and Zoe Furman from Quit Victoria. Ron Edwards from ACOSH weighed in with some good positive media too. The AMA contributed and the doctors in General Practice wrote heaps of letters to members urging them to support the Bill. Doctors from Heart, Cancer and Quit also individually lobbied to good effect. Dr. Richard Wood-Baker kept on trying and the whole team never gave up.
Strong MP Help
A former member of the legislative Council, Peter Schultz, whose daughter died in her thirties from lung cancer, came down from the Northwest to personally lobby members to support the Bill. The Health Minister, The Hon. Judy Jackson, is a smoker who wishes she could give up and tries very hard to quit. She was determined to get the legislation through and fought for it all the way. She deserves special mention for her courage and invincibility in the face of a lot of opposition. The Australian Hotels Association (AHA), British American Tobacco (BAT) and Philip Morris produced amazing and expensive packages for parliamentary Members including individualised videos with pleading faces of young people working in hotels all around Tasmania. This even included very remote areas of the West Coast, and covered many electorates. They pleaded that they would lose their jobs if this legislation went through. This was so "over the top" that the MP's were not impressed. It was a great result and the health team can now concentrate on the next major battle towards smoke-free bars and gaming areas.
A Final Word From Anne Jones
The amazing team in Tasmania has done it again. Not only do they have the best point of sale advertising restrictions, they have just pulled off the best smokefree public places legislation with bans to commence in all areas where food is served, including counter meals. I feel very privileged to have worked with the Smokefree Tasmania Team and the gutsy Health Team including Kathy Barnsley, Martin Bicevkis and Mark Jacobs. The Tasmanian team has turned Tasmania around in the space of a few years and they are an inspiring example of how a team effort with a focus on winning political support can make the difference.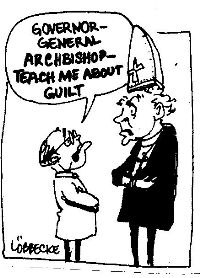 If the G-G succeeds with Howard he should try it with Nick Greiner.
The media has not reported any comments by NICK-O-TEEN GREINER. The poor man might be driven to taking up smoking to alleviate the stress of it all!
NSW ACTION ON SMOKE-FREE RAILWAYS
NSMA is fed up with Minister for Transport, Carl Scully's inaction over enforcing smoking bans on railway platforms. We are now filling up the complaints logbook at Central Railway Station, which is supposed to trigger some real follow up action by staff. We will test the much publicised "guarantee of service" promoted by the Minister as justification for proposed fare increases. We will follow up the "follow uppers" to demand what actually happened after the complaints were logged. This will be done as a lead-up to more aggressive action on World No Tobacco Day on 31 May 2001. On that day we invite all members and health workers to join us in a protest rally at Sydney's Central Railway Station.
PROTEST RALLY AGAINST SMOKING ON RAILWAY STATIONS
TIME : 1.15 PM THURSDAY 31 MAY 2001
PLACE : EDDY AVE RAMP ENTRANCE TO CENTRAL RAILWAY
DURATION : END 1.45 PM (For lunchtime workers, others may continue to 3pm)
Action Plan
The rally leaders will identify smokers who are in breach of existing laws and will demand that security staff either remove them or prosecute them. If security staff fail to act we will follow the citizens arrest procedures remaining within the law at all times. We expect court actions to follow and we will be pleased to hear the Minister explain to the media why it is not his fault because he had no idea that people were actually smoking on railway stations. He will also explain why the extra hundreds of security staff he has provided don't seem to be able to "see" these invisible smokers and hence there are absolutely no prosecutions recorded! For good measure he might also explain why cleaning up smoker's mess is still the biggest platform maintenance cost but he is powerless to reduce these costs. We will pursue this action by obtaining information under the Freedom of Information (FOI) Act. There must be tonnes of damming documentation on file showing the ineptitude and inefficiency of the State Rail Authority together with the official "three wise monkeys" smoking policy enforcers.
Seven Hills Railway Fiasco

The last Update 34 described the disgraceful behaviour of railway staff insulting a passenger and refusing to enforce no smoking laws. It further reported that NSMA members made their own signs specifically stating the law that smoking was banned under all covered areas and put them up on both Seven Hills and Westmead railway stations. These signs were pulled down within two days at Seven Hills but, amazingly, they are still in place at Westmead. Written protests to the Minister and representation via local MP's, Wayne Merton, and Pam Allan, resulted in identical bureaucratic replies personally signed by the Minister, Carl Scully, and the Parliamentary Secretary for Transport, Kevin Moss, with the following key advice: 'I am advised that the matters referred to have been investigated in accordance with internal State Rail procedures. I understand that the matter has been dealt with and that City Rail staff at Seven Hills Railway Station are aware of their responsibilities in such a situation."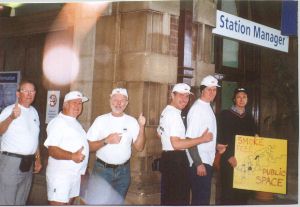 NSMA members queue up to complain about smoking on Sydney railway platforms
Well Mr Scully and Mr Moss we will see whether your staff at Central railway will honour your assurances on 31 May 2001 and we invite you to be down there to make sure it happens!
PROGRESS WITH NSW RESTAURANTS
Our members are delighted with this long awaited victory and can feel very proud to have made a contribution to it. Many complaints have been referred to the Department of Health Office at North Sydney. Many cafes, coffee shops and shopping malls are ignoring the new laws. Happily the Department have responded by saying the will direct 45 Inspectors to start cracking down on owners when reports are received. We are urged from many quarters to press ahead with extending the bans to all areas where food is served. No one accepts that smokers should have the sole enjoyment of al Fresco dining, it is meant for all to share. Hence the only solution is to extend the bans and require smokers to separate their eating from their smoking. The new laws have meant a boon for local Councils, as many restaurants have applied for al fresco dining. Sydney City Council has granted 10 new licences in Chinatown alone. Some councils charge $500 pa for each extra chair set out on the footpath so it is good business for them.
SURVEY ON ACCEPTANCE OF BANS
Dr Raoul Walsh of NSW Cancer Council Education Research Progam has conducted a survey which shows overwhelming support for smoking bans introduced with the Smoke-Free Environment Bill on 6 September 2000. This is a much-abbreviated summary of the survey results. The question asked for agreement or disagreement with the statement:
The NSW Government has done the right thing by banning smoking in enclosed public spaces?
To avoid the suggestion that this was a leading statement, half the sample, randomly chosen, were read the statement with the word "wrong" substituted for "right" The results demonstrated two things.
(1) There is very high public support for the bans at 82 or 90% depending on the wrong/right wording. This included a high level of support among smokers at 69 or 85%.
(2) The level of support is higher than reported in earlier studies. In 1997 only 53% of men and 55% of women supported total bans in restaurants and cafes, although 59% of men and 67% of women supported bans in the workplace. One interesting interpretation of different results from different states over several years is the clear possibility that when a government enacts legislation for which there is already majority support, there is an ambivalent group that then aligns its attitude with the official position. The government should draw confidence from this and act more decisively on wider bans. There is no doubt the public will quickly accept strong leadership which leads to better public health.
QUEENSLAND ACTION
Queensland introduced their legislation into their unicameral (No Upper House) parliament for its first reading in April 2001. Since the Beattie Labor Government has a massive majority and they are backing the Bill it went through without problems. The Queensland health team have done a great job developing their Tobacco Action Plan. They deserve special mention as their bans are ground breaking and will be in all venues where food and counter meals are served (like Tasmania) as well as at all gaming tables including a 2.5 metre perimeter surrounding the tables. The Bill is expected to go through for its final reading in time for the legislation to be announced on World No Tobacco Day 31 May 2001 but will not become effective for twelve months. (Stop Press since writing this news came through that the Bill was passed on 3 May the day after Marlene's historic win. More congrats to the Qld team in our next Update).
NORTHERN TERRITORY ACTION
Yes, even in that bastion of redneck policy making, they are starting to stir on smoking bans. Melissa Barrington of the Heart Foundation has been in the media urging NT Health minister to introduce legislation to ban smoking in eating outlets in the Territory. The Heart Foundation supports the Minister and his legislation. Ms Barrington says the ban would not affect businesses as the public will eventually get used to the bans as they do in other states. Darwin city council has banned smoking in and around their swimming pools. Dissenting Alderman, Jan Collins has been on the radio supporting people who are complaining about the ban. Ms Collins says it should only be banned 5 metres from the edge of the pool and not in the open-air areas. (Ed: We think smoking should be allowed in the pool and just ban it in the surrounding areas what could be fairer than that?)
Our campaigner, Ken Bishop, has been pursuing legal action against smoking in shopping centres in Darwin and has raised awareness on the issue. Now the Australian Property Council wants the NT Government to ban smoking in all enclosed shopping centres. The Yeperenye Shopping Centre in Alice Springs operates with one cafe for smoking and the large food court is now smoke free, so that is some sort of progress. Perhaps all this attention to smoking has been too much for the new Head of the Northern Territory's Health Service, Ian Fletcher, who has quit after only two months in the job. Mr Fletcher, who resigned for personal reasons, had previously been a consultant to tobacco giant Philip Morris.
VICTORIAN RESTAURANTS SMOKE FREE 1 JULY 2001
Steve Brack's labor government is still on course to bring in bans similar to NSW in that bar eating areas will not be smokefree. Unlike NSW there will be no relief for casino workers unless independent member, Susan Davies, can succeed with her attempted private members Bill to ban smoking in gaming rooms. She quite rightly points to the possibility of legal action resulting from a staff member who has contracted a smoking related illness through work. Also, banning smoking in gaming rooms would help encourage problem gamblers who smoke to take a break
BANS ON STREET SMOKING
We are regrouping after the first unsuccessful approach to City Hall. However we will pick it up again after the next push against smoking on railway stations. Our pursuit of open-air bans has been criticised but I have no doubt it is the right way to go. The objectives over the years have been constantly and logically re-stated in perceived achievable forms. Firstly from banning smoking in CONFINED PUBLIC SPACES (lifts, buses, transport of various forms etc.). Then it moved to ANYWHERE THAT PEOPLE WORKED. Now it has become ANYWHERE THAT FOOD IS SERVED. We must lead the next change to ANYWHERE THAT PEOPLE BREATHE. This will confine surviving polluters to their own homes where they should be kept. It may be a journey of a thousand miles but we have taken the first step!
Open air fight just beginning
This report from the USA shows we are on the right track pursuing open air bans. The February issue of Smoking and Health Review describes an attempt by a township called Friendship Heights in Maryland to ban smoking on its sidewalks as well as in its parks and other maintained areas. The article reports that more than 60 jurisdictions restrict smoking in one or more outdoor areas: e.g., beaches, parks, around building entrances, on queues etc., ASH USA are doing a great job by fighting this issue through the courts on the basis that there is no constitutional "right to smoke"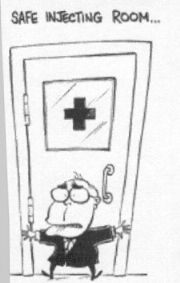 Sydney's safe injecting room opened 29 April 2001
Smoking restrictions are forcing smokers to smoke in the entrances to building, but now companies and institutions are cracking down. One US Company has banned smoking in the front of entrances to its buildings, and others are responding by building special enclosures for smokers. Many US hospitals are banning smoking anywhere on their grounds, and councils in Oregon and Corvallis have both prohibited smoking within three metres of the entrances to all business and public buildings. ASH says smoking restrictions outside is the next major step in the non-smokers rights movement. Some smokers agree the new restrictions are an incentive to quit.
Special enclosures for smokers in the open air it sounds fantastic !
THERE IS NO RIGHT TO SMOKE
(Abbreviated from ASH Review Feb. 2001) Unfortunately many people assume that smokers have rights, and that these rights must be balanced against the rights of non-smokers. Nothing could be further from the truth. If there were a right to smoke tobacco in public places, then logically there should also be a right to chew and spit tobacco, to burn incense, to imbibe alcoholic beverages, and engage in similar activities. Yet these have been outlawed in most public places for so long it's clear they are not rights. Only a handful of activities have been held to be "fundamental rights"; things the government is limited in regulating. These are not activities like smoking, but rather very private things like contraception, procreation, child rearing etc. Any other activity can be regulated or prohibited provided the government has a "rational basis" for such action. (More from this article in our next edition)
NSW HOSPITALS BAN SMOKING IN GROUNDS
We applaud the NSW Department of Health for initiating a policy of total bans in hospital grounds. Smokers have to leave the premises to indulge their habit. This is fully consistent with their obligation to enforce the hardest possible line against the scourge that keeps them entirely over-worked and under-financed.
WOOLDRIGE BANS SPONSORSHIP FROM 2006
The Tobacco Advertising Prohibition Act 1992 allowed for seven major international events to be exempt under Section 18. Amendments now passed mean that from 1 October 2006 there will be no tobacco sponsorship of any international sporting or cultural events held in Australia. This legislation represents the results of successful negotiations with the major sporting bodies and key stakeholders. The Federation Internationale has provided assurances that Australia will not lose major events, like the Grand Prix, as a result of the phasing out of tobacco sponsorship. Federal Health Minister, Dr Wooldridge, has said that, during the phase out period, he will maintain the tight restrictions applying to each event and ensure that the public's exposure to the remaining forms of tobacco advertising is kept to a minimum.
Let's hope they now eliminate the loophole of playing old footage, as they do with the cricket, which is saturated with messages from good corporate citizens. No, No, No, it was never "advertising"!. Remember when we (NSMA) took on the prosecution of Channel Ten over the Winfield Rugby League TV broadcasts we were lectured by many media commentators and other self-interested groups. Rothmans even provided $10,000-a-day barristers to insist that they were not advertising "Winfield" products but merely showing they were good corporate citizens assisting the sports which people loved to see. Anyway, I suppose we should be grateful that the principle of future bans is committed by the Government, even if we have to wait until 2006 to see it implemented.
Death at Tobacco festival
A journalist wrote that the Formula One race in Melbourne on 4 March 2001 reminded us that this was the deadliest game in the world, following the death of a race marshal. The marshal was killed by flying debris after two cars collided. He described the excitement of the crash. Electricity filled the air, the cars catapulted to a stop, officials raced to assist, clean up crews quickly cleared the track. If only the human mess created by these dedicated promoters of tobacco was half as exciting or could be cleaned up with similar efficiency. This "game" of pretending you are not promoting cigarettes is, indeed, the deadliest game in the western world with its death toll in the millions. The game in the third world is even more deadly because they don't even have to pretend; they just flog the fags to the unsuspecting and the uninformed masses. The photo shows the smiling winner of the Melbourne Tobacco Festival as he sends the "Smoke Marlboro" message to the youth of the world. The Marlboro team all wear the same red uniforms with the super-size MARLBORO logo to maximise every photo or TV opportunity. They are known as the "red army" and their killing efficiency certainly justifies the name.
WIDER TOBACCO SPONSORSHIP BANS BLOCKED
The Federal Government indicated it would block moves to widen the bans to include tobacco sponsorships of political fundraising events when it considered amendments to the Tobacco Advertising Prohibition Amendment Bill. Federal Health Minister Wooldridge warned the Opposition and Democrats that any attempt to also include bans on tobacco sponsorship of political events (Ed like Liberal party conferences?) could jeopardise legislation banning tobacco sponsorship of sport. (Ed. It's called blackmail).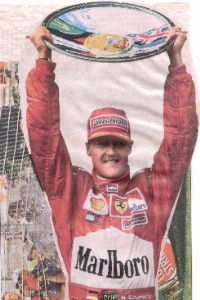 This is not cigarette advertising
This is why the Democrats had to appear to go against their position of opposing all sponsorship in order to make sure this important amendment did go through. The Democrats had strongly criticised both major parties for continuing to accept donations from the tobacco industry. In 1999 the Labor party received $126,000 and the Liberals received $139,000.
SMOKES LIGHT UP THE SILVER SCREEN
A study published in the Lancet has found that smoking in films has increased in the last decade, and was in fact higher than the previous decade when the tobacco industry had made no undertaking to stop promoting cigarettes in film. The study found that of 250 films top rating films released between 1988-1997, 85% had scenes featuring tobacco, and almost a third showed the tobacco brand name. Actor endorsement of cigarette brands had increased from 1% in pre 1990 movies to 11% in movies of the past decade.
Anne Jones of ASH and other health activists have been talking up the need for tough action to stop tobacco companies using movies to promote cigarettes to young people. Public health groups claim a marked rise in youth smoking is linked to a huge increase in actors lighting up on screen and they want tougher tobacco advertising laws to ban film makers from being paid for using cigarettes in their movies. Youth surveys show that peer groups are affected by images of actors smoking. Anne Jones says it is back door tobacco advertising On 12 April the ABC News included a story on smoking in films and how Australia's leading actors could be more active in helping to end backdoor tobacco advertising in films. Nicole Kidman, Cate Blanchett, Mel Gibson and Russell Crowe were all shown smoking in their latest films. Amending the Tobacco Advertising Prohibition Act is suggested as a solution to prevent any film producer/studio accepting a benefit to promote smoking. USA Prof. Stan Glantz is also targeting Hollywood actors in his advertisements which were launched on 16 April 2001 on his website: http://smokefreemovies.ucsf.edu/problem/index.html.
SMOKING IN GAOLS
Over the years we have received complaints from both warders and prisoners about enforced passive smoking in NSW Gaols. In the case of prisoners they usually complete their sentences before we get to second base with the Minister, so we all give up and press on with other issues. We now have an urgent new request from a warder who is being harshly dealt with so we have taken it up on two different fronts.
Threat of Class Action
On 9 April 2001 we made a two page submission to the Minister outlining their failure to give their staff a safe working environment. We presented inside information which indicated that warders would have a very good class action against the Department for damages suffered.
Discovery Via Workcover
We will use the three stage Workcover procedures to force information from the Department, which we have otherwise been unable to extract in the past. This is what should happen when a complaint is lodged against an employer. Stage 1. A letter is sent to the employer informing them of their obligations under NSW law. A request is made for a copy of the mandatory smokefree workplace policy under the regulations. Stage 2. If the policy is not provided or is unsatisfactory a second letter is sent warning that they are legally obliged to establish the policy and submit details. Stage 3. If this does not get results they carry out inspections based on the complainants information. They then have discretion to issue orders for compliance of a further period or can proceed to impose penalties up to $5000 per day for non compliance.
Lets hope we can get some action before this warder is pensioned off and we lose the complainant status which is essential to making progress.
More Workcover Complaints
We also have received complaints that Workcover's "Information Line" is sometimes unhelpful to people wanting to complain about smoking in various situations. They receive unnecessarily wordy advice "That there is no specific legislative reference to prohibit smoking in the workplace "it is a matter for combined aspects of Occupational Health laws, Common Law and Public Health Acts." This puts people off because they think it will be too complicated. Such down-playing of the fact that passive smoking has always been held to be in breach of Occupational Health laws is not acceptable. We have asked the Minister for Industrial Relations, The Hon. John Della Bosca, to ensure clear and helpful advice is given. Alternatively if he believes the legislation is technically deficient, he should move immediately to fix it.
SMOKING IN FLATS AND UNITS
We have sought to clarify the legal rights of Strata owners or occupiers to stop smoke invasion from adjacent units. The Department of fair Trading has replied, quote: "Section 117 of the Strata Schemes Management Act 1996 provides that private lots may not be used in a manner which causes a nuisance or hazard to occupiers of other lots. This provision could possibly be used in the example you raised in regard to a person being affected by other occupants smoking on the balcony of their adjoining unit. As is the case for smoking on common property, the dispute resolution process under the Act could be utilised although each matter pursued would depend on the merits of the case." We will continue our investigations to force some action on the complaints we have received.
Beware of light cigarettes
A study by University College London researches, published in the Journal of the National Cancer Institute, shows that smokers who buy light or mild cigarettes to reduce health risks can inhale eight times more nicotine and tar than labels suggest.
Casino Bans Welcomed
The Australian Council on Smoking and Health (ACOSH) has given qualified support to the introduction of new smoke free areas at Burswood Casino, Perth. ACOSH Chairman and prominent cardiologist, Dr Keith Woollard, said this is a positive step towards smoke free public places by a large corporation and we are encouraged by Burswood's proactive approach. Burswood management is certainly on the right track and is leading the world with the provision of smoke free areas. There are, however, areas at the Casino in which smoking will still occur. Risks of passive smoking to employees and patrons will continue. In fact, they could become worse if more smokers crowd into these areas." ACOSH Director, Mr Ron Edwards, said the Casino deserved to get strong public support for this initiative.
YOU CAN'T WIN THEM ALL
A class action by the Tobacco Control Coalition has been dismissed, following their failure to lodge surety of $300,000 for costs. This is a temporary win for the tobacco industry but I'm sure it will not be the last word on this type of action.
SMOKING OK ACCORDING TO MOST AUSSIES
A new report by the Australian Institute of Health and Welfare shows that most Australians accept smoking and drinking but see heroin as a major drug problem. The report found that tobacco and alcohol account for 96% of drug related deaths and hospitalisation, and cost the community more than $1billion a year. 40% approve of the use of tobacco by adults, but only 1 in 20 believe smoking is a 'drug problem'. The survey also found support for tougher penalties against those who sell cigarettes to children.
INTERNET TRICKS TO HOOK YOUNG WOMEN ON SMOKING
The photo shows a recent fashion parade in Melbourne, where four tanned and svelte 'Alpine Girls' worked the crowds dressed in sexy sequined dresses and platinum blond wigs. Cigarettes were available at a discount price and Alpine packets were on display at the bar. Young trendy attendees were urged to sign up to the new "Wavesnet" site to receive free gifts and invitations to young fashion award nights etc. This is a new dodge set up by Philip Morris and targeted especially at teenagers through the internet. These events are an opportunity to promote their products through displays, typically at glamorous party or club settings, often at adult venues, and always where young people are present in large numbers.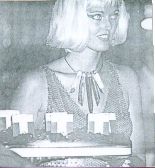 Cigarette girls at fashion shows
Todd Martin of Quit Victoria and Simon Chapman of ASH have been doing an expose through the media, pointing out that many unsuspecting producers of youth brand items, including compact discs, confectionery, lingerie, and clothing were conned into supplying free samples to these Wavesnet promotions without being told it was all a front for tobacco marketing. When the companies found out they expressed outrage and withdrew their support.
Good on you Elaine!
Melbourne radio caller, Elaine, says she pulled up at the Arts Centre, St Kilda Rd where two people smoking in a little blue Laser car threw out a half smoked cigarette which continued to burn. She got out of the car picked up the cigarette and threw it back in the window and said she "believed it was theirs".
MORE FUNDS NEEDED TO TARGET YOUTH SMOKING
The AMA has called for more government funding to target youth smoking with research showing 75% of regular (daily) smokers have taken up the habit by age 21. Commonwealth Bank Group/AMA Youth Health Advocate, Melanie Earl, said a state and territory breakdown of the Australian Institute of Health & Welfare's (AIHW) 1998 National Drug Strategy Household Survey showed that anti-smoking messages were not getting through to young people. She said the survey showed that in Western Australia, the Northern Territory and Tasmania, 75% of regular smokers had started smoking by 18. The survey also showed the Northern Territory had the highest rate of current smokers (35.8%), followed by QLD (28.8%), TAS (28.2%), WA (27.4%), VIC (27.2%), ACT (26.5%), NSW (25.4%) and SA (22.2%).
10 Times Funding Needed
"Clearly the Federal Government needs to boost its anti-smoking funding if it wants to stop teenagers from smoking," Ms Earl said. "It needs to spend at least 10 times the amount of money it's spending every year if it's serious about turning around the attitudinal problem," she said. Ms Earl said the AIHW survey had found that the proportion of people who smoked regularly was highest among 20-29 year olds at 32%. "It's also alarming that, according to the survey, 40% of adult Australians still approve of regular tobacco smoking even though smoking kills 18,0000 Australians every year," she said. "This is sending the wrong messages to teenagers. "There needs to be a serious national initiative to work harder to turn off the 'tobacco tap' at the teenage market to ensure the tobacco industry does not have long term clients. "Fortunately more than 90% of respondents to this survey strongly supported stricter enforcement of the laws prohibiting the supply of cigarettes to minors. We now need 90% of the population to give a massive thumbs down to tobacco products in 2001," Ms Earl said. (Figures supplied by the Australian Institute of Health & Welfare from a survey of 10,000 Australians in 1998).
LETTERS TO EDITOR (abridged)
Dear NSMA
Just a note to say I think you provide a great service to all people by taking on the tobacco industry. It seems strange that this battle is still being fought in this day and age. I live in Sydney and am now benefiting from the introduction of the Smoke Free Environment Act outlawing smoking in restaurants. Although this is a watershed in NSW, I fear the celebrations and cries of victory are a bit premature. I agree with you that an "all public spaces ban" is the ultimate goal - but I think that taking this on at this time would be counter-productive. Firstly, I would suggest, why not concentrate on tidying up last year's law. There are some major problems with it. For example, a simple amendment could define "enclosed" space to include anything with a cover, awning etc over it. Perhaps this will get around the major problem whereby smokers now dominate the outside areas of restaurants and cafes, and awnings trap smoke and send it back into the inside of the place making the whole law ineffective. Another shortfall is of course pubs and clubs. If smoking is banned from pubs and clubs you instantly take away a great deal of the attraction of smoking for the teenagers and young adults. Nick Fitzsimmons 17/1/01
Dear NSMA
As a member and supporter I appeal to other members to renew their memberships and also recruit some new members to counter our shrinking membership problem. I would also encourage responsive action with donations as well. Let's support organisations like NSMA and ASH that helped win smoke-free restaurants. Just because that battle has been won it does not mean the war is won. I would love to be able to go into a pub or bar without coming out red-eyed, stinking and feeling spaced out from breathing these drug-addicts health violating pollution. So folks, this is not the time to slacken-off. Please support by recruiting, donating and fighting until we win the pollution war. To put my money where my mouth is, I have enclosed a donation of $100 with more to follow.
Bob Daisley
Ed. Note: Following the imposition of more and more bans the hate email and abusive phone calls have increased proportionately. Some of them are beauties promising murder and rape, would you believe!!
PACKETS SHOULD HOLD BUTTS
Talk back radio has had callers saying the cigarette people should get their act together and redesign packs to incorporate a metal section to hold butts. We have long advocated this as an answer to the littering problem. It may increase the cost of a packet of cigarettes but it is consistent with the idea that people who make packaging should also be accountable for its disposal. We should push this idea much harder in future.
NEW EDITION EXCELLENT GUIDE
The NSW Cancer Council has updated and re-printed their excellent guide to passive smoking and the law in NSW with the title "When Smoke Gets In Your Eyes".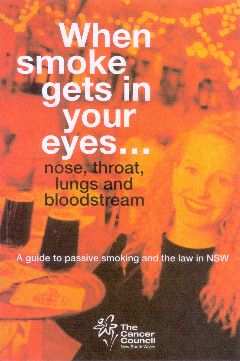 Updated Cancer Council book with the latest information on Passive Smoking
In addition to outlining the issues, it lists landmark legal cases and gives all key references. Cost about $17 plus postage. Contact details Tel: 02 9334 1900, Fax 02 9357 2676 or see website: www.cancercouncil.com.au.
JOIN NSMA NOW!
All health lobby workers and all health agencies and organisations should support the Non-Smokers' Movement because the issue of non-smokers' rights holds the key to how far the tobacco industry can be finally diminished without actually resorting to prohibition. In 24 years of operation the NSMA has never received one dollar of government funding, yet we could be one of their most effective tools if properly supported. There must be an answer to this does anyone have it? Meanwhile we ask everyone to recruit new members. Just send $45 subs. ($25 concession) with details to the address on the front page of this newsletter. We look forward to welcoming new activists but will be very happy to just receive financial support.
---

The Non Smokers' Movement of Australia - 2001-2007.
---
[Home Page] [Publications] [Updates List] [Top]