[Home Page] [Updates List] [Bottom]
| | |
| --- | --- |
| | Non Smokers' Update |
Issue 31, February - May 2000
The Non-Smokers' Movement of Australia Inc, Box K860, Haymarket NSW 1240.
Contact: Send a message to the NSMA Web page: www.nsma.org.au
---
VICTORY AT LAST ! NO SMOKING IN NSW RESTAURANTS
THE NSW HEALTH MINISTER, THE HON. CRAIG KNOWLES, ANNOUNCED THIS LONG AWAITED DECISION ON TUESDAY 2 MAY 2000. THE BAN WILL COVER ALL DINING AREAS IN RESTAURANTS, CLUBS, HOTELS, CASINOS, CAFES AND WILL EXTEND TO VIRTUALLY ALL ENCLOSED AREAS IN PUBLIC BUILDINGS. THE BANS WILL TAKE EFFECT IMMEDIATELY AFTER THE BILL IS PUT THROUGH PARLIAMENT.
THIS IS EXPECTED TO BE ABOUT THE END OF MAY. THE BANS IN SOME HOTEL DINING AREAS MAY BE DELAYED FOR 12 MONTHS TO ALLOW SEPARATION OF AREAS WHICH ARE ADJACENT TO BARS. THE BAR AREAS OF HOTELS AND CASINOS ARE EXEMPTED PROVIDED NO FOOD IS SERVED THERE. THE BAR AREAS OF COUNTRY HOTELS THAT SERVE COUNTER MEALS WILL ALSO BE EXEMPTED FOR THE TIME BEING.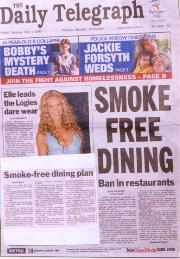 Good News on the Front Page
---
WIDE COVERAGE OF BANS
The bans will extend to a long list of other enclosed public spaces. A lot of these are smoke free already due to occupational health laws or voluntary restrictions. These include shopping centres, malls, community centres, halls, business premises, public areas in hotels and motels (not accommodation), fitness centres, bowling alleys, and other sporting facilities and child care centres. Bar areas in clubs, hotels and licensed premises will be exempt and bans will not apply to traditional country pub lunches eaten at the counter or in beer gardens.
PARLIAMENTARY DEBATE
The final details of phase-in plans and exemptions will not be really clear until the legislation is again debated and passed through both Houses of Parliament. During the Labor Caucus debate, backbencher Peter Black gave a passionate defence of the right to smoke, especially at a hotel. This speech was clapped by the Treasurer, Michael Egan, much to the amazement of his labor colleagues. When treasurers start counting their loss of revenue as more important than the public good it will be a worry until the Act is finally passed. Of course we can expect the Liberal Party, with a leader who is the daughter of Greg Bartels, ex-Director of a tobacco company, and with Nick Greiner cracking the whip behind the scenes, to do absolutely nothing to strengthen the Act and they will do their best to frustrate its effect.
PENALTIES
The information given out by the Health Minister suggests that smokers will be liable to fines of $550 and owners of premises will be up for $5500 for breaches of the Act. The Minister said the new laws were necessary due to the irrefutable evidence that passive smoking was harmful. When smokers light up in enclosed spaces, non- smokers become smokers too. Mr Knowles said that most smokers willingly go outside for a cigarette and the overwhelming majority of enclosed public spaces are already smoke-free.
AMENDED LEGISLATION
The proposal is not new legislation, rather it is an amendment of the 1997 NSW Smoking Regulation Act, which readers will recall contained that ridiculous requirement to establish a new Air Quality Standard first and then allow a five year phase-in period before bans were introduced. It was the "five years from never- never plan" masterminded by the previous smoking Health Minister, Andrew Refshauge.
THANK YOU CRAIG KNOWLES
I think we can say thank you to Craig Knowles for a more enlightened approach after he took over from Andrew Refshauge. While we have complained bitterly about lack of action in setting the required air quality standard it seems that Knowles was receptive to the arguments put to him that it was not necessary to do this first. We told him that it was not found necessary to define an air standard before bringing in the bans in buses, trains and aircraft so why should it suddenly become essential before bringing in bans in restaurants. It was patently a delay tactic borne of lack of political will to bite the bullet in 1997.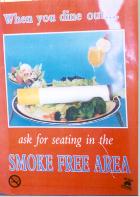 No Longer Do We Have To Beg
CONGRATULATIONS
Congratulations to all members of the Health Lobby Team on finally achieving the ban on smoking in restaurants, and virtually all enclosed public areas in NSW. A special thank you to Anne Jones and Simon Chapman of ASH Australia and Dr Andrew Penman of NSW Cancer Council for carrying the frontline burden in NSW for so long. Other well funded agencies like VicHealth and ACOSH in other States have also played a strong supporting role through the Tobacco Control Network. We should not forget the pioneering work of Dr. Arthur Chesterfield-Evans and independent Member For Manly, Peter Macdonald and to some extent Fred Nile in the Upper House for manoeuvring the Government into action through the Private Members' Bills of 1996/97. The final result flows from that groundwork and no doubt everyone concerned feels a sense of satisfaction today after so many years of frustration.
FURTHER WORK
The Minister has set up a working party with industry and union representatives to assist licensed premises to implement the changes. There is still work to be done by the health lobby to extend bans to the remaining hotel/club bar areas, but that should not take too long if the Unions apply the necessary muscle on behalf of their long suffering members. We propose to help this along with some active canvassing of bar staff as an exercise for World NO TOBACCO Day on 31 May. The important thing is that the politicians have started to get the message and should be able to stand up to the tobacco lobby without having to be propped up at every turn. They must surely realise they lack credibility with the public if they continue to favour the short-term revenue from tobacco over the long-term health damage to citizens.
LOST BUSINESS FURPHY
To his credit the Health minister dismissed claims that the reforms would hurt business. He cited the Canberra, ACT, experience over five years where the bans on smoking in restaurants have not resulted in any decline in business or revenue. He recognised this as just typical scare tactics by the tobacco lobby.
VOLUNTEERS NEEDED FOR RALLY ON WORLD NO TOBACCO DAY
Have you never attended an NSMA rally before? Well now is your chance. Meet in the foyer of the TRADES HALL BUILDING AT 4 GOULBURN STREET SYDNEY (opposite china town) AT 12 NOON ON WEDNESDAY 31 MAY. Wave a placard, shout and be heard, you achieve nothing sitting at home. The crying baby gets the attention! There will be two themes. First to mobilise the bar workers not to take their occupational health exclusion lying down. Second to launch our campaign for smoke-free open air venues including the city streets.
COFFEE SHOP WAR
For many years the NSMA workers and volunteers have patronised Moor's coffee shop and eatery located in Sussex Street just near the NSMA office in the Trades Hall Building. It was not uncommon for 10 to 15 members to relax there with a tea, coffee or soft drinks to recover from the rigours of protest demonstrations outside Parliament, or at some other city location. Our No Smoking protest signs were on show and the proprietors were very aware of our campaigning. In addition Brian McBride regularly bought lunches and coffees while working in the office. Hence it was a shock to him when the proprietors "spat the dummy" and ordered him out of the shop on 6 March 2000 with a threat never to enter there again or, if he did, he would not be served.
Background.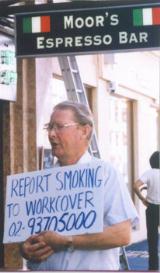 Brian Interviewed by Channel Seven
Brian had pointed out years ago that the smoke pollution in their shop was very objectionable and that it was in breach of occupational health laws. The three brothers who own and run the place used to defend smoking as everybody's right and said you people should not be interfering with "their rights". You know how these illogical arguments go with some people. However Brian never made a big issue of it and opted to keep the peace because it was the quickest and closest shop. Most of the time he just bought take-away so as to minimise the exposure.
Bob Carr's leaked News. On Sunday 5 March Alex Mitchell wrote an encouraging article in the Sun Herald predicting that the NSW Government was going to bring in restrictions on smoking in all restaurants before the Olympic Games in September. This was considered to be a further leak from Carr's office after the kite-flying of December 1999, suggesting it might happen. When Brian went into Moor's Cafe next day, 6 March, he made light conversation while waiting for the coffee did you see the piece in yesterday's paper? That will mean there will be no more smoking in here then. Well, it was a bit like striking a match in a gas filled room. There was an explosion of words. The three fiery Italian brothers turned on him saying that he was a little Hitler, full of bullshit, doesn't know what he is talking about, will ruin our business etc., etc.,
Challenge Issued. Brian did not seek to promote the row but insisted that the advice which he had previously given, that smoking was already in breach of existing laws, was correct. The senior brother, Nathaniel, then issued a challenge to Brian in front of about six people in the shop. He said we are not breaking any law; you are full of bullshit. If Workcover can do anything to stop the smoking in here, you get them to do it. Go on, get them down here right now and I will prove they can't do anything. Brian gave him an escape opportunity - Do you realise what you are asking me to do, because, if you push it, I will be only too happy to make a complaint and get something done? He replied, go on you do it!
Complaint to Workcover NSW So the deed was done. Brian faxed a complaint to Workcover and sent a copy to the shop. Next minute the phone rang - did you send that fax - did you say we were rude and arrogant. Yes I did because that is the truth of the matter. He refused to give his name but he repeated the warning not to set foot in their shop again - or else.
WORKCOVER ACTION
An inspector visited the cafe in response to the complaint and told the proprietors that passive smoking now evident represented a risk of injury to third parties such as members of the public and confirmed that it was a breach of section 16 of the OHSA Act. They issued the proprietors with a "Notice" to assess means of risk minimisation and advise Workcover how they would achieve it. This seems a terribly oblique way to deal with the issue. One would expect that Workcover would simply charge them with a breach of Section 16 of the Act and start fining them on a daily basis until they eliminated smoking within their premises. However it is such a politically sensitive issue that Workcover have adopted a "softly - softly" approach to investigating complaints. Usually a visit from Workcover inspectors to other types of workplaces subject to complaints is sufficient for the owners/employers to shape up and impose smoking bans for fear of being prosecuted by Workcover. There is seldom need for Workcover to get out the big stick. The exceptions, however are hotels and restaurants, where the proprietors get away with lip service or promises with no real follow up action by authorities. Usually the few complainants, even members of NSMA, feel frustrated and give up.
POLICE ACTION
Brian complained to the local police that he had been threatened with non specific assault if he entered the premises from which he was unlawfully banned. The police scratched their heads as they tried to understand the basic complaint that the Occupational Health Laws were being breached and that he was fully entitled to complain about it without being threatened or banned. They really did not want to know about it, but he persisted until they undertook to check the facts with Workcover. You won't be surprised to hear that two days later the police rang to say they had been informed by Workcover that there was not actually any enforceable law being broken and it was only a policy of Workcover to discourage smoking when complaints were received. Therefore the police said Brian had no legal basis to hassle the proprietors and if they saw fit to refuse him entry to their premises he would be trespassing if he did enter them. In fact they said if they were called re this dispute they would have no option but to arrest Brian as the offender!
SUNDAY TELEGRAPH STORY
A press release was issued to draw attention to what non smokers have to put up with. The Sunday Telegraph asked Brian to stand in front of the shop with one hand on the front door for photos. One of the fiery brothers immediately warned him not to touch his shop and not to come in. Another got a hose and started to splash it around where he was standing so that he had to move away from the shop. After they put the hose away the Telegraph directed him to stand in another position in front of the shop in another attempt to get photos. Again the hose came out and the whole footpath area each side of the shop was relentlessly watered down forcing Brian to keep moving. With very agile footwork and split second timing the Telegraph eventually got their photos and Brian only got his pants wet!
CHANNEL SEVEN NEWS The next day reporter John Collis interviewed Brian outside the cafe and then watched him go inside in defiance of the ban. The cameras were rolling but the three brothers went to water and did nothing but loudly complain that he was a troublemaker. They told the reporter , do you know he is such a troublemaker that he has been banned from every club in Parramatta, and we won't serve him here. When Brian proceeded to sit down and ordered a coffee, Nathanial made a big show of rushing to the phone and then came back and announced that the police had been called to throw him out. Channel Seven waited patiently for the action they wanted, but after half an hour another brother owned up that they were only bluffing and the police had not been called.
SYDNEY CITY TIMES
The story made the front page of this city paper as illustrated in the photo with Olga Aguirre holding it up. However it did not get to air on Channel Seven or get published in the Sunday Telegraph. We suspect a major factor was their inability to get a quick and accurate response from Workcover on the true position with the law.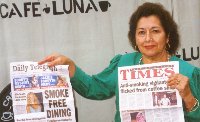 Olga Outside the Cafe Luna
SMOKERS' FRIENDS IN LABOR COUNCIL
Back in the office Brian then received a call from someone purporting to represent the NSW Labor Council. Many labor heavies from the Trades Hall use the cafe and often labor politicians can be seen in there with them having coffee. This person told Brian that he was wrong and the proprietors were quite within their rights to allow smoking in their shop. When Brian quoted the respective sections of the legislation and started to question on what basis this person represented the Labor Council the caller backed off and decided not to pursue the matter. This only goes to prove the degree of ignorance out there about OHSA 1983, amongst people who could be expected to know better.
ATTEMPTED FOLLOW UP
Brian was not about to give up and pursued it through a series of unsatisfactory phone calls with Workcover officers, who proved very difficult to access, hiding behind voice mail messages. With part time inspectors unavailable or out on the road, it is not hard to understand why most complainants usually give up from sheer exhaustion. Brian wrote a factual account of just how difficult it was to get a proper response from Workcover and eventually received a reply which said, "We are satisfied with the officers' performance and the matter has been investigated in accordance with correct procedures".
NOTHING HAS CHANGED
Four weeks after the complaint nothing had changed in the Café. People are still smoking and Brian is still banned from entering the place. Last advice from Workcover is that they are awaiting a response from the owners. Meanwhile they said their legislation did not cover such issues as the ban and they could not assist further. Of course the whole matter now will be over-taken by the new direct "no smoking" laws and we can stop struggling with the indirect OHSA laws.
A HAPPY COFFEE SHOP STORY
In seeking out another coffee shop in the area Brian discovered the CAFÉ LUNA at 368 Sussex Street, near the corner of Liverpool St. He was delighted to find that it was a totally smoke-free café although it was not obvious outside and you only see the signs when you go in. The proprietor is Olga Aguirre and she tells of much difficulty in maintaining her policy over the four years she has been there. Young female office workers from that building, which is home to radio station 2GB, and some of the men boycott her shop because she will not let them smoke. They will go further down the street and buy take-away coffee and hold it up as a defiant gesture as they walk past her café. Another problem is smokers standing just outside the doorway to smoke and drink their coffee. The smoke still invades the inside of the cafe and Olga has to chase them away. She is very serious about not subjecting her patrons to passive smoking. Brian has warmly congratulated her on her stand and pointed out that she is doing what the law requires, even though she did not understand the details of OHSA 1983, she just hates smoke pollution. The photo shows Olga outside her café. She is very pleased that the proposed new NSW bans on smoking will include her competitors and she will not be subjected to any more harassment from inconsiderate smokers.
THE FUTURE OF NSMA
Does the great victory in NSW mean that there is no need for NSMA to continue its pioneering work? The answer is NO we must keep going for all these reasons:
- We are a national organisation and much work needs to be done on the remaining states, Victoria, Queensland, Tasmania and Northern Territory.
- The enforcement of new smoke-free laws needs to be vigorously followed up. Don't assume it will all happen through council and Workcover inspectors.
- The new laws, even in other states are not perfect. There are too many exemptions and loopholes that must be eliminated.
- The Governments are sure to reduce funding to their anti-smoking programs.
- The tobacco companies will step up their funding on indirect advertising and sneaky promotions to keep recruiting smokers.
- We have to keep attacking the Greiners in their secure Australian base which is master- minding the spread of tobacco disease in ASIA.
- We still have to win the "open air" war Hence all members are urged to keep up their renewals and keep sending those extra donations. The better our funding, the more things we can do.

THE TOBACCO INDUSTRY LOBBIES GOVERNMENT AGAINST LEGAL ACTION
The prospect of legal action by states to recover public health costs prompted the tobacco industry to launch an intense lobbying campaign to head off the action. Head of British American Tobacco (BAT) in Australia, Gary Krelle wrote to each State and Territory Attorney General seeking a meeting prior to the planned meeting of all State Attorney Generals in March 2000 . His letter states that as governments receive more in tax then they spend on health costs of treating smoking related disease, they could not suffer a loss. This is the usual rubbish and propaganda they are so practised at. The full text was covered in the Financial Review, together with legal opinions by QC Peter Semmler and barrister Philip Taylor. This can be accessed at www.afr.com.au.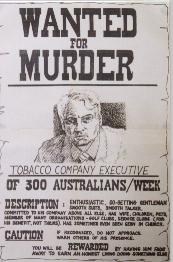 Responsible Management Poster
RESULT OF ATTORNEYS' MEETING
All State, Commonwealth and the New Zealand Attorneys-General have agreed to establish a working party to consider the viability of a joint action against tobacco companies. State Council of Attorney Generals (SCAG) agreed to refer the tobacco industry litigation to a working party of State and Territory Crown Solicitors, and the Australian Government Solicitor, to identify potential causes of action and to provide advice on prospects of success in the context of collective action in various jurisdictions. The working party will also consult with legal experts in the field. We hope this "working party" will come up with a positive recommendation. There will be no excuse for failing to follow the example of the American Attorneys Generals who won back billions for state coffers.
DECISION WELCOMED
Executive Director of Quit Victoria, Todd Harper and other health spokespersons said the decision is a warning to tobacco companies that they are not above the law, and should be prepared to account for their actions in court. Tobacco companies have fought tooth and nail to prevent the truth being revealed to the public about the harmful effects of smoking. Even as recently as only two or three years ago industry chiefs were still denying the relationship between smoking and cancer, in the face of overwhelming medical evidence to the contrary. It was only in 1997 that the CEO of WD and HO Wills claimed that he was not aware of any causal relationship between lung cancer, heart disease and smoking. In the same year the CEO of Philip Morris said causation between smoking and disease had not been proved by scientists. Smoking is killing thousands of Australians, and it is time the tobacco companies were forced to account for their actions. This must happen by litigation or action by Australian Parliaments to enact legislation that regulates an industry that has abrogated its obligations to Australia and caused so much death and disease.
DOCTORS REFORM SOCIETY ACTION
Dr Peter Davoren, President of the DRS, is a strong campaigner against smoking and called for all forms of tobacco advertising to be banned. The Doctors' Reform Society urged the Attorneys'-General meeting in Melbourne to stop cigarette companies promoting the habit. Dr Davoren also said nicotine patches should be added to the pharmaceutical benefits scheme. There is urgent need to eliminate the advertising ban exemptions, which are granted for the seven major international sporting events held in Australia.
WA CALLS FOR CLOSURE OF CIGAR BARS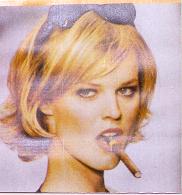 I'll Do Anything For Money
Recently released US research showing that cigars are more deadly then first thought has prompted Western Australia's Heart and Cancer foundations to call for an end to cigar bars and cigar promotions. The Australian Hotels Association WA executive director says WA already has Australia's most stringent smoking regulations, and the foundations are 'trying to have another bite at the apple when they have already had a major win'.( Ed. How unsporting of them!)
DYING SMOKERS RECEIVES $33M TOBACCO PAY OUT
In California, a jury has awarded $33 million in punitive damages to a woman who began smoking after cigarette packets in the US carried warning labels. The decision is the first time a damages claim has been awarded to a smoker who began smoking after health warnings were introduced on cigarette packs. The jury rules that Philip Morris and RJ Reynolds acted with malice, knew about the health hazards of smoking, and deliberately mislead the public. Both companies have indicated they intend to appeal the decision. The decision comes as closing arguments have begun in a Miami class action on behalf of thousands of sick Florida smokers, with one lawyer tipping the jury ruling could award billions in damages.
SURFER FEEDBACK
Message from ex-smoker after reading our Web Site. Wow, You guys must have nothing to do all day! I recently quit smoking, because it is the healthier option, but reading about you, I am now considering taking it up again, just to annoy you. You guys would drive any smoker to drink. Any decent fascist could learn a thing or two from you. So, 1 out of 10 for style, but several billion out of ten for commitment. Puzzled, Attila Ed note: It's good to see we are getting to them!
ILLEGAL TOBACCO
Talk back radio callers in Victoria have reported seeing children sell illegal tobacco to pensioners seeking cheap smokes. Bad quality illegal tobacco is sold for $25 and good quality for $30.
ONE NATION DOES SOMETHING RIGHT
One Nation Party's David Oldfield went on Sydney radio to condemn smoking by our teenagers. He makes the valid point that there are no laws for children under 18 not to smoke, only not to purchase cigarettes. He reported that he has drafted a private members' Bill to stop minors from being legally allowed to smoke. Lets hope he can succeed with support from other parties.
WHO PAID FOR THIS COMMENT?
On 3 May Alan Jones complained bitterly on Radio 2GB that Legislation goes before State Parliament this week to ban smoking in restaurants and the eating areas of pubs and clubs. This will affect small businesses. Cigarettes are a legal product, so what the hell are we doing?. It is an absolute nonsense!, he said. I wonder how much money Jones and Laws have invested, or did have invested in tobacco company shares, over the years that they have defended the industry . I wonder, even more, why the Australian Broadcasting Authority does not declare such comments as paid advertisements where the commentators do have a financial interest in the outcomes. We have a pecuniary interest register for politicians, so why not for commentators, some of whom have more influence than politicians.
A WIN FOR TOBACCO INDUSTRY
On 22 March 2000 the US Supreme Court handed down a landmark decision, ruling that the Government does not have the authority to regulate tobacco as an addictive drug. The ruling - narrowly won by a margin of just one vote- is a major blow for the Clinton administration's main anti-smoking initiative. the ruling is being hailed by the tobacco industry as a victory, and has seen Philip Morris stock price rise sharply on the NY stock exchange.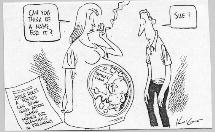 Enlarged Cartoon
MORE BAD NEWS ON 13TH FEBRUARY 2000
The landmark Federal Court decision handed down that day was a set-back for the pro-health forces. The court ruled that there was not sufficient common ground between the estimated 60,000 victims who would benefit from a CLASS ACTION. They smoked different brands at different times and suffered differing diseases etc., Hence it said they could sue individually but not as a single class. The Law firm Slater and Gordon says it may go to the High Court to appeal the decision. It really is disgusting to see the amount of money and the resources thrown in by tobacco companies against legal proceedings to prevent people accessing the courts. Their real concern is they don't want courts to hear evidence of their lies and deception.
NEW BREATHE EASY PROJECT
Mr Rob Moodie, CEO, VicHealth , entertainer Dianna Wolfenden and solicitor, Mr David Libermann spoke at a press conference to launch a new Guide In March aimed at venue managers detailing how to become smoke-free environments. They described the experience of the Panthers complex in becoming smoke-free, including reduced operating costs, attracting new patrons currently excluded by smoking venues, operational issues, and the success in educating patrons about smoke free venues. Dianna Wolfenden spoke about beginning the Breathing Easy project, including her experiences as a performer and that of other performers most of whom greatly welcome smoke free venues. Mr Libermann detailed many of the legal issues surrounding employers providing safe workplaces to employees and the duty of care to patrons. He also countered queries about the rights of smokers in venues. . Let us hope that other clubs and venues take note and that Victoria soon becomes smoke-free like NSW.
SHOPS PUSH FOR SMOKE BANS
Queensland's Shopping Centre Council has called on the Government to introduce smoking bans in shopping centres, following Victorian Health Minister John Thwaites announcement last week that legislation to introduce smoking bans in restaurants would be widened to shopping centres. The council says centres need their policies to be backed by law. Let us hope this is the start of some serious action in Queensland, which has been very slow off the mark on anti- smoking action.
EXPERT SAYS 'SMOKE FREE' SOCIETY IS INEVITABLE
A leading expert in social and behavioural research says that we are currently seeing a 'social revolution' in smoking, with new research showing an increasing number of smokers are regulating their own smoking in public and in private. Director of the newly established VicHealth Centre for Tobacco Control, Dr Ron Borland, revealed research that shows over 70% of indoor workers report being protected by total smoking bans. Visitor smoking is increasingly discouraged in both smoking and non-smoking households, with the number of smoking households discouraging smoking rising by 40% in the last ten years; and the rate of smokers smoking outside their home has doubled over the last 4 years, with over 40% of smokers now reporting they always smoke outside their homes.
AMA SEEKS MORE FUNDING FOR ANTI-SMOKING CAMPAIGNS
The Australian Medical Association is seeking an additional $60 million for anti-tobacco campaigns. The proposal is outlined in their pre-budget submission to the federal Government. National president Dr David Brand said funding for tobacco control should be equal with the tax revenue of $4 billion annually, $66 million of which come from under 18's.
WHY KIDS SMOKE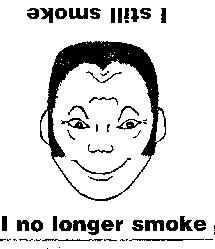 Enlarged Cartoon
A new study shows positive parenting, and less pocket money help prevent adolescent smoking. The study has found that high school students who smoke are more likely to have more than $20 a week pocket money, to have no rules at home about not smoking, to not feel close to their father, and be from an English-speaking background. NSW Cancer Council Cancer Prevention Manager, Jeanie McKenzie, said the study confirmed that school students were more likely to smoke if they thought their peers supported them smoking. The study also found that students who smoke were more likely to have family members who smoke, spend three or more evenings a week out with friends and have negative perceptions of the school environment.
DICK SMITH ATTACKS TOBACCO AGAIN
Entrepreneur Dick Smith has been in the media again talking about his latest adventure, flying a hot air balloon from NZ to Australia. He was promoting his line of Oz Buy goods such as Dick Smith peanut butter and the impending launch of his helicopter jelly and Ozemite He says it's not good to know Vegemite is owned by Phillip Morris, a cigarette company. Good on you Dick, keep knocking those international drug pushers who don't give the kids of the world an even break.
LIBERALS IN BED AGAIN
Konrad Jamrozik, Associate Professor, Public Health UWA, tackled Prime Minister, John Howard on radio, about inadequate funding for quit campaigns and the disgraceful Philip Morris sponsorship of the Liberal Party State Conferences last year and again this year. Howard was uncomfortable with his answers but has defended getting into bed with Philip Morris because 60% of their revenue does not come from tobacco, he says. Perhaps, Prime Minister, that means 60% of the deaths they cause don't really matter after all. We wonder how long will it take for the Liberal Party to get out from under the thumb of big tobacco? Their blindness to the tobacco scourge will blacken all future accounts of their history in this country.
AMA ATTACKS TAX CONCESSIONS
The Labor Opposition has backed calls from the Australian Medical Association for the Federal Government to exclude tobacco companies from research and development tax concessions. This followed revelations that Phillip Morris received up to 0.5million dollars per year in tax concessions for research work designed to develop high tar cigarettes for export to Africa and the middle east. The AMA rightly called this a national disgrace. It was bad enough that the Government subsidised any production of tobacco in this country but it was appalling that it should help damage the health of our neighbours in the developing world. Leader of the Opposition, Kim Beazley said such companies should be cut off from government assistance for this type of research work.
LATE NEWS BUT GOOD NEWS
The Labor Government in Victoria has just introduced legislation aimed at bringing the same smoking bans in restaurants as in NSW from 1 November 2000.
---
HALLELUJAH! NOW FOR QUEENSLAND, TASMANIA & NORTHERN TERRITORY.
---

The Non Smokers' Movement of Australia - 2000.
---
[Home Page] [Publications] [Updates List] [Top]